September 2023 Spotlight Practice
Treasure Coast Animal Rehab and Fitness
Vero Beach, Florida
AARV Member:
Amber Callaway Lewis, DVM, CCRT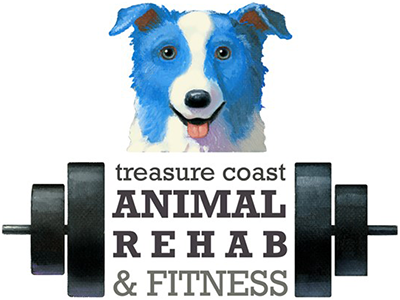 Unleashing Happiness: The Comprehensive Care Offered At Treasure Coast Animal Rehab and Fitness
For those beloved companions facing physical challenges, Treasure Coast Animal Rehab and Fitness specializes in comprehensive care that can make all the difference. Our clinic goes beyond traditional veterinary care, focusing on holistic approaches to restore mobility, alleviate pain, and enhance the overall quality of life for our four-legged friends. At TCAR, we pride ourselves in offering a range of services from comprehensive rehabilitation, acupuncture and TCVM, to chiropractic care and fitness programs, all administered by a team of certified professionals. What truly sets us apart is our dedication to community engagement, education, and celebrating the special bonds we share with our senior and special needs pets.
Continue reading below ...
Amber Callaway Lewis, DVM, CCRT, is our founder and AARV member who started TCAR right before the COVID shut down. What makes TCAR dynamic is our ability to adapt to what our patients need. We have continued to offer more integrative and preventative programs including our fitness programs for puppies, seniors, felines and tripods.
Our clinic offers hydrotherapy, laser therapy, PEMF, herbal therapies and comprehensive manual therapy, therapeutic exercises and more. Our team comprises passionate and dedicated professionals who are not only certified in rehabilitation and fitness but also equipped with the skills to provide hospice care. When the time comes to provide comfort and support to senior pets or those with special needs, our compassionate staff is there to offer palliative care, ensuring a peaceful and dignified transition.
We firmly believe that our responsibility extends beyond the clinic walls. That's why we actively engage with the local community through lectures, open houses, and celebrations dedicated to senior dogs, cats, and special needs pets. These events not only provide valuable information about pet care but also foster a sense of belonging and camaraderie among pet owners facing similar challenges.
At TCAR our proudest achievement is the ability to improve the quality of life and happiness of the pets we care for. Through our comprehensive approach to rehabilitation, holistic therapies, and community involvement, we have witnessed countless success stories where pets have regained their mobility, alleviated their pain, and enjoyed a renewed sense of vitality. Our staff's compassion and expertise play a vital role in these transformations, demonstrating our commitment to ensuring that every pet enjoys the best possible life.
By offering a range of services, from acupuncture and chiropractic care to fitness programs and hospice support, we are dedicated to enhancing the lives of pets and their families. Our unwavering commitment to compassion, expertise, and community engagement underscores our belief that every pet deserves the chance to lead a fulfilling and joyful life, regardless of their physical challenges.
Contact:
Treasure Coast Animal Rehab and Fitness
825 18th St.
Vero Beach FL 32960
Phone: 772-492-6066
Email: info@TCAnimalRehab.com
Website: TCAnimalRehab.com