March 2019 Spotlight Practice
Integrative Veterinary Medicine Service at
Washington State University Veterinary Teaching Hospital
Pullman, Washington
AARV Members:
Jessica Bunch, DVM, CCRT, CVA
Lori Lutskas, LVT, CCRP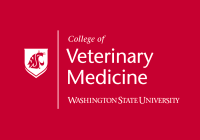 The Integrative Veterinary Medicine Service at Washington State University Veterinary Teaching Hospital started as a stand-alone service in April 2017, with Dr. Jessica Bunch. In the years prior to her arrival, rehabilitation was offered at the university as an adjunct in-house service through their certified rehabilitation technician Lori Lutskas, LVT, CCRP. However, when Dr. Bunch started in April 2017, the university expanded to offer a fully comprehensive service model to accommodate not only other veterinary departments but also outpatients and outside referrals.
The Integrative Veterinary Medicine Service program at Washington State encompasses rehabilitation, acupuncture, herbal therapy and pain management services. They interact with students from all stages of the curriculum, whether it be shadowing essential staff, working on their own pets, or patient care/treatments through other clinical services. Since 2017 they have grown to offer an elective clinical curriculum for 4th year veterinary students involved in case work-ups, diagnosis, diagnostics, management, and treatments.
Continue reading below ...
Modalities currently offered:
Underwater Treadmill
Therapeutic Exercise
Manual Therapies
Therapeutic Ultrasound
Electrical Stimulation
Shockwave Therapy
Therapeutic Laser
Acupuncture
In addition to their clinical rotation and service, Dr. Bunch also teaches elective courses to 1st, 2nd, and 3rd year students, introducing them to many aspects of integrative vet medicine. The department also offers guest lectures concerning rehabilitation and its role in students' surgery and neurology courses as well as applied anatomy. Dr. Bunch is the advisor for the Integrative Veterinary Medicine Club, which combines students' interest in rehabilitation, holistic medicine and traditional veterinary Chinese medicine.
The team likewise participates actively in continuing education opportunities for veterinarians, technicians and clients in their respective communities. They speak at local conventions and CE meetings on various rehabilitation topics. Future plans include continuing to build student interest, expand service space to increase the ability to serve more patients and involve more students as well as continue clinical research in the exciting field of rehabilitation.
Article written by AARV Member Jessica Bunch, DVM, CCRT, CVA
Contact
Washington State University Veterinary Teaching Hospital
Integrative Veterinary Medicine Service
205 Ott Road
Pullman, WA 99164-7060
Phone: 509-335-0711
Email: jbunch@wsu.edu or lll@wsu.edu
Website: vth.vetmed.wsu.edu/specialties/IVM