September 2016 Spotlight Practice
Water4Dogs
New York, New York
AARV Members:
Jonathan Block, DVM, CVA, CCRT
Francisco DiPolo, DVM, CVA, CCRT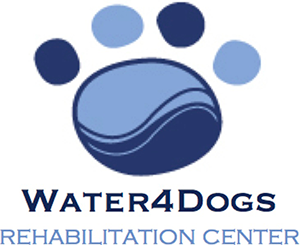 Water4Dogs was originally created as a canine water therapy facility focused on fitness, conditioning and recreation, located in downtown Manhattan in New York City. At the end of 2012, the original owner was considering the possibility of closing the facility and reached out to Dr. Francisco DiPolo, who owned a veterinary hospital in the same building, to see if there was any interest in the location. It was at that time that Dr. DiPolo and his associate, Dr. Jonathan Block, started a partnership to transform Water4Dogs from a recreational and conditioning facility to a full-service, stand-alone, accredited canine rehabilitation practice.
Continue reading below ...
After completing his CCRT training certificate, Dr. Block took on the role of medical director while Dr. DiPolo was initially responsible for the business model and day-to-day operations at Water4Dogs. After three years, Water4Dogs now has two CCRT-trained veterinarians and a para-professional team of seven, including LVTs, assistants and a practice manager dedicated to patient care and client services.
"At Water4Dogs we have the unique opportunity to house the only exclusive indoor veterinary rehabilitation pool in the greater New York City area. This has allowed us to expand the type of services we can offer as well as becoming a great source of referrals from other facilities that lack the space," says Dr. DiPolo.
As the only stand-alone veterinary rehabilitation center in New York City, Water4Dogs receives case referrals from the greater veterinary community, including various surgeons and neurologists in the NYC area. In recognizing this, the practice has focused on creating educational content to generate awareness and to help support the local referring veterinary community and their clients. This content also allows Water4Dogs to maintain an active online social media and blog presence.
Aside from servicing the general pet population in need of rehabilitation services, Water4Dogs works very closely with some local rescue organizations. This relationship with rescue groups has become a great source of satisfaction for the entire team and an opportunity get involved in very challenging cases that are rarely seen among the typical household pet population. One of these interesting and special cases is Baby Joey, through Second Chance Rescue NYC. Click here to read more about his story.
The team at Water4Dogs recognizes the very unique opportunity that they have to be able to practice this type of medicine in the their facility in an area like downtown Manhattan. "We are fortunate to be able to offer this array of services in New York City. Amazing things happen at Water4Dogs and it is an honor to create these meaningful connections with our clients and patients as they heal," says Dr. Block.
Among the services offered at Water4Dogs are:
Therapeutic exercise, manual therapies, and therapeutic massage
Hydrotherapy: Underwater treadmills and controlled swim therapy
Laser therapy: Class 3B (cold laser) and recently Class IV
Therapeutic ultrasound and neuromuscular electrical stimulation
Acupuncture, herbal, and nutritional therapy
Cart fitting and prosthetics fitting
Special needs boarding and rehabilitation
As part of their commitment to the field, Water4Dogs closely adheres to the model standards for a rehabilitation practice established by the AARV. This serves the practice as the framework to build on while they continue to look for ways to improve the patient and client experience.
Water4Dogs' plans for the future are to continue to grow the operation as they adjust to the new demands of patient and client care. They recognize that as an emerging field, canine rehabilitation is advancing quite rapidly and the need to continue to expand the knowledge of the veterinarians and paraprofessional team cannot be underestimated. Their biggest investment at this point is in the quality and training of their staff.
At the core of all this process is the overall vision and mission statement of "making pets fitter for life" and the team at Water4Dogs takes great pride in it.
Contact:
Water4Dogs
77 Worth St., Second Floor
New York, NY 10013
Phone: 646-214-8186
Website: water4dogs.com
Email: help@water4dogs.com