August 2021 Spotlight Practice
Veterinary Sports Medicine & Rehabilitation of Homer Glen (VSMR)
Homer Glen, Illinois
AARV Members:
Amber Ihrke, DVM, DAVCSMR, CCRT, CVA, CVSMT, CVPP
Katie Neforos, CVT, CCRVN, CVPP
Katharine Holich, CVT, CVMRT
Carla Ortega, CVT
Sam Messina, CVT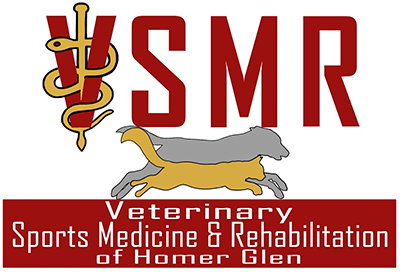 Veterinary Sports Medicine & Rehabilitation is a standalone veterinary hospital focused solely on state-of-the-art sports medicine and rehabilitation. The team at VSMR develops a customized treatment plan based on your pet's diagnosis, abilities, and limitations.
Continue reading below ...
VSMR services include:
Acupuncture
Therapeutic Exercises
VSMT/Chiropractic
Hydrotherapy
Manual Therapy
Therapeutic Laser
Therapeutic Ultrasound
Electrical Stimulation
Custom Orthotics, Prosthetics, and Carts
Pulse-Electromagnetic Field Therapy
Musculoskeletal Ultrasound
Gait4Dog® Objective Gait Analysis System
Micro-invasive Needle Arthroscopy
Digitherm Thermal Imaging
Companion Stance Analyzer
Intro-Articular Injections
AARV member and VSMR Medical Director Amber Ihrke, DVM, DAVCSMR, CCRT, CVA, CVSMT, CVPP, became certified in rehabilitation through Canine Rehabilitation Institute in 2011. She is also certified in acupuncture through Chi Institute and Veterinary Spinal Manipulation through The Healing Oasis. She founded VSMR (formerly Integrative Pet Care of Homer Glen) in 2013. Our clinic started with Dr. Ihrke and 1 technician. Our head rehab technician and AARV member Katie Neforos, CVT, CCRVN, CVPP, received her rehabilitation certification from CRI in 2014 and is also a Certified Pain Practitioner. We have recently added 3 more technicians to our staff, Katharine Holich who recently received her rehabilitation certification through Healing Oasis, Carla Ortega, and Sam Messina, who will be attending Healing Oasis this fall. We are proud to be able to offer rehabilitation therapies as well as advanced diagnostics to our clients and referring veterinarians.
In 2021 we will be introducing Synovetin OA for the treatment of canine elbow osteoarthritis (OA). Synovetin OA is given as an in-office injection under sedation by our certified veterinarian. Unlike other treatments it does not mask the OA pain, but rather contains micro particles that treat the disease at its source. It deactivates the inflammation producing cells that cause the joint damage and pain, increase mobility and suppresses inflammation for up to one year.
VSMRHG has become a partner in the Veterinary Care Charitable Fund (VCCF) a program created by the American Veterinary Medical Foundation (AVMF) to support veterinarians who provide veterinary services to animals in our community whose owners are faced with extraordinary hardships. To that end we have started The Caspian Fund, which prides itself on helping disabled pets live independent lives.
Preferred Contact:
Tina Medland
Email: tmedland@vsmrhg.com
Phone: 798-966-2600Â 
Website: https://vsmrhg.com/
Facebook: https://www.facebook.com/vsmrhg
Instagram: https://www.instagram.com/vsmrhg