November 2016 Spotlight Practice
Veterinary Specialty Center of Delaware (VSCD)
New Castle and Dover, Delaware
AARV Members:
Natalie Campbell, VMD, CCRP
Kristin Jankowski, VMD, CCRP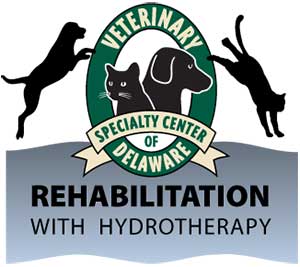 The Veterinary Specialty Center of Delaware is a state-of-the-art referral hospital offering advanced and urgent care to companion animals. The main hospital receives specialty and emergency patients and is located just off of US I-95 in New Castle, DE, with a satellite location in Dover, DE which sees only specialty appointments. Both buildings sit just off major highways and are easily accessible to Delaware, Pennsylvania, Maryland and New Jersey clients and patients. VSCD specialists are trained in cardiology, 16-slice CT imaging, critical care, internal medicine, oncology, ophthalmology, anesthesia, acupuncture, rehabilitation, radiology/ultrasound and surgery. The practice's 24/7 emergency staff veterinarians are highly skilled to treat and manage all emergencies from trauma to chronic ailments.
Continue reading below ...
The VSCD Rehabilitation Program was started at VSCD in 2011. At the program's inception, patients were treated with manual therapy in a 100 square-foot exam room in the main hospital. The current Rehabilitation Center is now housed in a service-specific 1000 square-foot building on the main campus of the practice. Our service treats patients six days per week and focuses on animals with neurologic injuries/diseases, sporting/working dogs, geriatric patients and post-surgical patients. Initial consults with clients are 90 minutes and follow up appointments are 45 minutes. In addition to appointments, we also treat hospitalized in-patients, which may include post-op orthopedic or neurologic patients as well as debilitated patients in the hospital's intensive care unit.
The VSCD Rehab Team is comprised of two veterinarians and one human physical therapist - all certified in canine rehabilitation through the University of Tennessee (CCRP). Essential to the team is our hydrotherapist who oversees all patients in the underwater treadmill and heated therapy pool. The team is completed by two rehabilitation assistants, who make everything run smoothly. Both veterinarians, Dr. Kristin Jankowski and the center's director, Dr. Natalie Campbell, are AARV members.
Our Center reflects the AARV model standards in many ways. Each appointment is managed by a certified rehabilitation practitioner, and much of each visit is spent educating our clients on disease processes, pain management, medication, nutraceuticals, diet plans, home programs and ongoing restorative plans. We communicate directly with referring veterinarians via telephone after the initial consult with a client, followed by detailed letters explaining the animal's treatment plan. Patients are assessed at every appointment and pain is addressed and treated before work or exercise begins. We are prepared for emergent situations that arise with a protocol that has been designed specifically for our service.
Our practice is most proud of the relationships that we develop with our clients and patients. Clients are encouraged to be a part of each 45-minute appointment so close, lengthy relationships are formed. We are very excited about our one-of-a-kind Enliten System. This system allows us to work with dogs who have decreased mobility by supporting them in a sling that has attachments to an almost frictionless metal structure (see photos). Our practice's plans include continued growth through expansion of services, as well as renovation and expansion of the current hospital footprint.
Contact:
Veterinary Specialty Center of Delaware
290 Churchmans Road
New Castle, Delaware 19720
Phone: 302-322-6933
Fax: 302-322-6883
Website: vscdel.com
Email: petcare@vscdel.com