December 2021 Spotlight Practice
Veterinary and Rehabilitation Center of Cape Elizabeth
Cape Elizabeth, Maine
AARV Members:
Ginger Browne Johnson, DVM, CCRP
Charles S. Evans, MPT, CCRP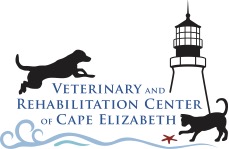 Located in Cape Elizabeth, Maine, Veterinary and Rehabilitation Center of Cape Elizabeth opened in July of 2012. VRCCE is a small animal practice with a specialty in canine rehabilitation. VRCCE strives to provide individualized rehabilitation therapy for each patient and stand by the directive "Do No Harm" that is central to both the veterinary and physical therapy oaths. Considering the referring veterinarian's diagnosis, our own evaluation and VRCCE veterinary staff's knowledge of the patient, we determine an effective, safe, and appropriate course of treatment.
Continue reading below ...
Treatment options include aquatic therapy, therapeutic exercise, electrical stimulation, therapeutic ultrasound, and photobiomodulation. Physical therapy credentials also allow us to use manual techniques such as myofascial release, strain counter strain, craniosacral and vestibular techniques, massage, Reiki, respiratory therapy, acupressure, joint mobilizations, and manual traction. Nina Morris, DVM, a certified veterinary acupuncturist, may determine if acupuncture should be included in the treatment plan.
VRCCE enjoys excellent professional relations with outside vendors to provide expertise in assistive devices such as wheelchairs, for front limbs and hind limbs, human quality joint braces, wraps and prosthetics for canines. We provide clients with online home exercise programs including written descriptions of exercises and video tutorials. These programs are important for healing to progress daily at home. By following these clear instructions, the client becomes an essential part of the rehabilitation team.
We provide referring veterinarians with monthly reports detailing their patients' recovery and status. Communication between VRCCE and referring veterinarians ensures trusted collaboration and continuity of care. Because we often see patients and clients more than once a week, we provide regular and timely education and reassurance to clients regarding their pets' progress.
At VRCCE, our rehabilitation team provides over 70 years of experience in the field of physical therapy and over 40 years of experience in the field of canine rehabilitation! Our unique combination of skills and experience allows us to provide a comprehensive approach to the care and healing of patients.
Ginger Browne Johnson, DVM, CCRP, is a graduate of Tufts University School of Veterinary Medicine and received her CCRP certification (Certified Canine Rehabilitation Practitioner) from the University of Tennessee in 2007.
Charles S. Evans, MPT, CCRP, has been a licensed Physical Therapist in Massachusetts, New Hampshire and Maine and has clinical experience with people in orthopedic and neurologic rehabilitation, manual therapies, and aquatic therapy. He earned a BS in Zoology from Kenyon College and a master's in physical therapy from Notre Dame College in 2001. He received his CCRP certification in December of 2003 and has been practicing at VRCCE for the last 6 years.
Jodi Bandola-Marks, MPT, CCRP, is a licensed Physical Therapist who received her BS in Biology from Boston College in 1997 and since her graduation from Notre Dame College in 2001 with a master's in physical therapy, has collaborated with people in Woman's Health, acute care, acute rehabilitation, and outpatient home care for the last 20 years. She became a CCRP in 2017. She has been practicing at VRCCE for 4 years.
Lisa Woodman, PT, CCRP, is a Maine native and earned her BS in Physical Therapy from Northeastern University in 1988. Lisa's principal areas of practice for the last 32 years have been in manual therapy and orthopedics. Lisa is certified as an orthopedic clinical specialist, and she does vestibular therapy. She became a CCRP in 2019 and has been working at VRCCE for 2 years.
Ginger Browne Johnson, DVM, CCRP, and Charles S. Evans, MPT, CCRP, are both members of the American Association of Rehabilitation Veterinarians (AARV).
Information written by AARV Member Charles S. Evans, MPT, CCRP
Preferred Contact Methods:
Email: info@vrcce.com
Website: https://www.vrcce.com/
Facebook: https://www.facebook.com/VRCCE
Instagram: https://www.instagram.com/vrcce