February 2022 Spotlight Practice
Up and Running Canine Rehabilitation
Avon Lake, Ohio
AARV Member:
Julie Letosky, DVM, CCRP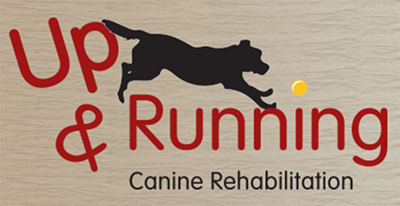 Up and Running Canine Rehabilitation opened in 2011 as a separate department within the Avon Lake Animal Clinic Campus. The main veterinary practice has been in operation since 1960 and has grown to include 15 doctors and more than 200 support staff operating out of three separate buildings. Up and Running is housed within the 30,000 square-foot boarding and day-care building. It consists of a main therapy room, a separate underwater treadmill room, and a large, seasonal, zero entry outdoor pool.
Continue reading below ...
The Avon Lake Animal Clinic Campus has always had an exceptional reputation for its orthopedic capabilities, so adding rehabilitation to the practice was an obvious choice. Initially this new department primarily served in-house post-operative patients, but quickly started seeing patients from other local hospitals and referral centers. Currently, our case load consists of 60% post-surgical and 40% OA, weight loss, and quality of life management.
Our future goal is to increase participation in the sporting and conditioning aspect of rehabilitation and hopefully become more involved with local community canine sporting events.
Our Team:
Julie Letosky, DVM, CCRP, AARV member, is a 1994 graduate of Ross University School of Veterinary Medicine and received her rehabilitation certification in 2011 from the University of Tennessee and a certification in veterinary ultrasound from the University of Illinois in 2014.
Jody Bertram, RVT, CCRP, is our head technician and has been with Up and Running since its inception and with the practice for over 25 years.
Katie Habusta, RVT, is one of our newest team members and will be starting her rehabilitation certification soon.
Darren West and Lora Lutz are our well-trained assistants. Both have ample experience in the veterinary profession and have been with Up and Running for over a year.
Jessica Pennington is our receptionist and has been part of the practice for over 15 years.
At Up and Running, we offer the most current techniques in veterinary rehabilitation to ensure a safe and positive outcome. We create individualized rehabilitation plans focused on accommodating our patients' specific problems and goals. Our modalities include UWTM therapy, swim therapy, laser, manual therapies, therapeutic exercise, home management with direct owner instruction, and follow-up home videos.
In addition we also have extensive experience in prosthetics and orthotics and other assistive devices, and in cooperation with the main clinic perform regenerative therapies including stem cell and PRP injections.
"I believe the quality of any practice is reflected in the quality of its employees. I am most proud to be able to work with a team of individuals whose commitment to patients, owners, and the promotion of rehabilitation and its benefits is unparalleled."
Information and direct quote written by AARV Member Julie Letosky, DVM, CCRP.
Preferred Contact Methods:
Email Contact Form: http://upandrunningrehab.com/contact-us.html
Website: http://www.upandrunningrehab.com/
Facebook: Up and Running Canine Rehabilitation