July 2023 Spotlight Practice
Tulsa Animal Rehab & Wellness
Tulsa, Oklahoma
AARV Member:
Emily Hall, DVM, CCRT, CPAT-KA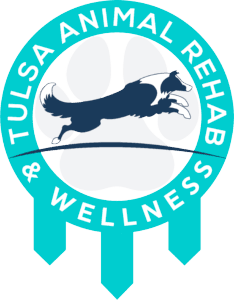 Tulsa Animal Rehab & Wellness was started by a compassionate and dedicated veterinarian with a mobile veterinary rehabilitation clinic that is revolutionizing the way animals receive care in the Tulsa community. Driven by her own personal experiences and a deep desire to enhance the lives of animals, Dr. Emily Hall, DVM, CCRT, CPAT-KA, combines her knowledge and experience in veterinary medicine, canine rehabilitation therapy, and animal behavior to provide comprehensive and holistic care to her patients.
Continue reading below ...
Dr. Emily's journey began when she adopted Kalina, a special dog who had a badly broken leg and an anxiety disorder. Through the process of helping Kalina recover and improve her quality of life, she realized the transformative power of integrating medication, training, and rehabilitation. Inspired by this experience, she later pursued a certification in Canine Rehabilitation Therapy, becoming a Certified Canine Rehabilitation Therapist (CCRT). This invaluable knowledge equipped her with the tools to address long-term side effects, such as mobility issues, that animals face after surgeries or as they age.
After completing her Doctor of Veterinary Medicine (DVM) degree at Ross University School of Veterinary Medicine, where she also conducted conservation research with sea turtles and vervet monkeys, Dr. Emily expanded her horizons as the Staff Veterinarian at Coral World Ocean Park. Working closely with a diverse range of animals, including sea lions and bottlenose dolphins, she witnessed the importance of animal behavior and mental health in overall well-being. This experience reinforced her belief in the need for a more comprehensive approach to veterinary medicine, one that integrates traditional medicine with behavioral therapy and rehabilitation.
Driven by her passion to improve animal lives, Dr. Emily continuously seeks to expand her knowledge and skills. She is a Certified Fear Free Professional and an active member of esteemed organizations such as the American Veterinary Society of Animal Behavior, the Animal Behavior Management Alliance, and the American Association of Rehabilitation Veterinarians. Dr. Emily's dedication to excellence is further demonstrated by her certification as a Certified Professional Animal Trainer-Knowledge Assessed (CPAT-KA) through the International Animal Trainers Certification Board (IATCB).
Through her mobile veterinary rehabilitation clinic, Dr. Emily helps animals with physical and mental disabilities get back to the activities they love. So they can have adventures without pain or fear getting in the way of the good times! Whether it's helping animals recover post-surgery, managing chronic health conditions like osteoarthritis, or providing conditioning programs for injury prevention, she approaches each case with a holistic perspective. By combining her knowledge and experience in veterinary medicine, rehabilitation therapy, and behavioral interventions, Dr. Emily strives to improve the overall well-being and quality of life for her furry patients.
Dr. Emily Hall's mobile veterinary rehabilitation clinic provides a compassionate and comprehensive approach to animal care, where animals can receive the best lives realistically possible. With her commitment to rehabilitation medicine and a deep understanding of animal behavior, she is making a positive impact on the Tulsa community, one fur friend at a time.
Preferred Contact: Dr. Emily Hall, DVM, CCRT, CPAT-KA
Email: tulsarehabvet@gmail.com
Website: tulsaanimalrehab.com