October 2019 Spotlight Practice
TOPS Veterinary Rehabilitation
Grayslake, Illinois
AARV Members:
Christine Jurek, DVM, CCRT, CBS, CAC
Rosemarie Niznik, DVM, CVA, CVSMT
Deanne Zenoni, DVM, CVA, CVSMT, CVMRT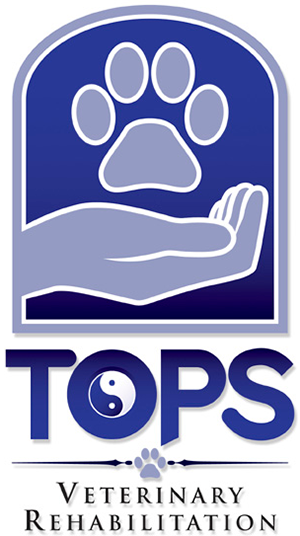 TOPS Veterinary Rehabilitation is a full-service exclusively rehabilitation and sports medicine facility, which truly pioneered the field of veterinary rehabilitation. Founded in 1998, TOPS was the first stand-alone rehabilitation clinic in the United States, the first to utilize underwater treadmill therapy for canine use, and also a pioneer in the concept of incorporating integrative medicine options into the rehabilitation service offering. TOPS offers a full list of rehabilitation services, including therapeutic exercises, passive range of motion, massage, NMES, TENS, Therapeutic Laser Therapy, and Acoustic Compression Therapy. In addition to these rehabilitation options, TOPS offers acupuncture and chiropractic services, as well as nutritional counseling, to supplement the rehabilitation services and provide a holistic approach to rehabilitation.
Continue reading below ...
TOPS believes strongly in providing the best available treatment options and is constantly evaluating new treatment options for its patients. As an example, TOPS is excited to be soon adding Hyberbaric Oxygen Therapy to its service offering. TOPS sees a wide range of patients, including a preventative maintenance program for 12 local police K9s, canine athletes of every kind, geriatric patients having mobility difficulties, neurological patients, post-surgical patients, and those with undiagnosed lamenesses, to name a few. Perhaps TOPS's most rewarding cases are those that come in with a poor-to-guarded prognosis and as a last hope, which then have their comfort and/or mobility restored, and can continue to enjoy life as a normal functioning member of their family. In the words of Treatment Supervisor Carrie Parker, "there's nothing more rewarding than seeing a dog whose parents thought was the start of the end going back to being a normal, happy, playful dog."
When it comes to their success, Dr. Christine Jurek, TOPS Medical Director, is quick to point to the staff. "Although our list of equipment is extensive and cutting edge, it's really our experience and commitment to both staff and client education that has led to our success. Our veterinarians and technicians work hand in hand to truly take a team approach to rehabilitation." To that point, TOPS has a combined 50 years of experience in veterinary rehabilitation between its three doctors and three technicians. In addition to Dr. Jurek, that team includes Associate Veterinarians Dr. Deanne Zenoni and Dr. Rose Niznik and Technicians Carrie Parker, Michelle Allen, and Allison Bilinski.
As the team at TOPS looks to the future, they plan to not only continue the high level of care they have been providing, but to expand the manner in which they are able to share their knowledge and expertise with others in the veterinary community, improving not only their own patients but the veterinary community as a whole. TOPS recently partnered with Pathway Vet Alliance and is grateful for the support of rehabilitation that Pathway has shown. Tom McCauley, TOPS founder and current Operational Director, comments: "Pathway's commitment to rehabilitation is unparalleled and is allowing us to make an already strong business model that much stronger."
Information written by Founder/Hospital Administrator Tom McCauley and AARV member Christine Jurek, DVM, CCRT, CVA, cVAC
Preferred Contact:
Christine Jurek, DVM, CCRT, CVA, cVAC
Phone: 847-548-9470
Email: info@tops-vet-rehab.com
Website: https://www.tops-vet-rehab.com