May 2017 Spotlight Practice
The SPAW Pet Rehabilitation and Fitness
Aldergrove, British Columbia, Canada
AARV Members:
Jeff Bowra, DVM, CCRP
Jenn Panko, RVT, CCRP, VTS (Physical Rehab – OC), OCMC, CAPMC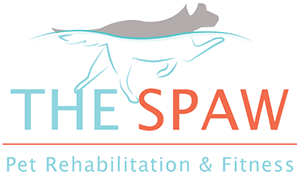 The SPAW Pet Rehabilitation and Fitness was the first veterinary rehabilitation facility in Canada and an exciting addition to Aldergrove Animal Hospital in Aldergrove, British Columbia in 2004. The SPAW is dedicated exclusively to physical rehabilitation therapy, fitness and conditioning, weight management, osteoarthritis care, and sports medicine. We aim to improve quality of life, optimize mobility, and return to function and sport. Our facility boasts a separate entrance from our clinic, an indoor fitness and hydrotherapy area including an underwater treadmill located in our therapy pool, a land treadmill, a stance analyzer, therapeutic ultrasound, Class IV laser, and a sheltered porch for therapeutic exercise. The SPAW therapy pool is a 6 x 12 foot, 4-foot-deep stainless steel therapy pool with resistance jets that provides our patients with varying degrees of resistance to swim against.

The SPAW team includes Jeff Bowra, DVM, CCRP; Susan Calverley, DVM, CCRT; Mark Smith, BSc, DVM, MVSc, Dip (ACVS); Jenn Panko, RVT, CCRP, VTS (Physical Rehab – OC), OCMC, CAPMC; and Jolena Kusec, BSc, REMT, SAMP. Our clinicians have a comprehensive set of skills including expertise in sports medicine, rehabilitation including use of modalities, orthopedic surgery, pain management, acupuncture, assistive devices, orthotics and prosthetics. They diagnose conditions and prescribe treatment including pain management and nutrition options and physical rehabilitation. Our Registered Veterinary Technologist and Certified Canine Rehabilitation Practitioner Jenn Panko performs all prescribed treatment plans and reports all findings and progress to the clinicians, schedules further consultations with clinicians, and reports back to referring veterinarians.

Continue reading below ...
Jenn Panko and Jeff Bowra are proud AARV members, and Jenn is the Communications and Information Technology Chair for the Academy of Physical Rehabilitation Veterinary Technicians. The SPAW abides by both the AARV Standards of Practice and APRVT Code of Ethics.
We are working toward adding a second underwater treadmill to increase availability of appointments for pets in need and further enclosing our porch to provide small Toto Fit Exercise classes for our patients and increase use of our SPAWsitively Fit Pet Gym. We have recently added RockTape, a stance analyzer, and shockwave to our available tools to help assess and treat patients. Jenn is a proud retailer of Toto Fit Products and is thrilled to share their Keep It Simple and Keep It Safe approach to canine conditioning, fitness, and core strength with her clients and the sporting dog community. She will be attending agility championships in Ontario, Alberta, and British Columbia this summer and is looking forward to speaking on a variety of rehabilitation topics at The Atlantic Coast Veterinary Conference October 9-12, 2017 in Atlantic City, New Jersey.
We are proud to work closely with Surrey Animal Resource Centre and The Langley Animal Protection Society to provide physical rehabilitation services and weight loss programs for dogs and cats in shelter. Jenn is a proud co-founder of SWIM Cats, A Coast to Coast Feline Weight Loss Initiative, and part-time Large Animal Laboratory session instructor in the Douglas College Veterinary Technology Program. For more information on The SPAW, please visit our website www.thespaw.com, 'like' us on Facebook, follow us on Twitter #K9Physio and Instagram (the spaw). Email Jenn at jennifer@thespaw.com or call or text 778-VET-SPAW (838-7729).

Contact
The SPAW
26841 Fraser Highway
Aldergrove, British Columbia, Canada V4W 3E4
Phone: 778-VET-SPAW (838-7729)
Email: jennifer@thespaw.com
Website: www.thespaw.com