March 2022 Spotlight Practice
Twin Cities Animal Rehabilitation & Sports Medicine
Burnsville, Minnesota
AARV Members:
Julia Tomlinson, DAVCSMR, PhD, DACVS, CVSMT, CCRP
Amy Whaley, DVM, CCRP, CVSMT
Missy Weber, DVM, CCRP, CVSMT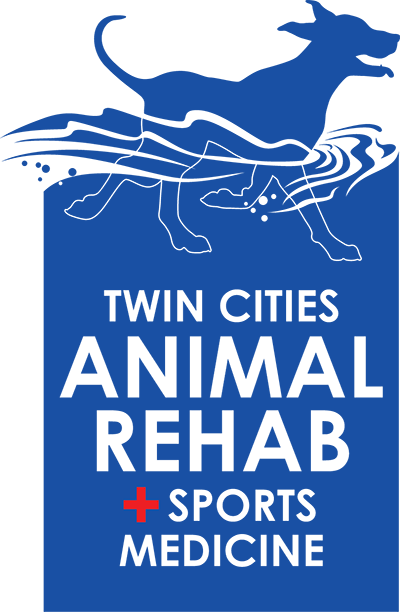 Twin Cities Rehab was founded in August 2007 in the Twin Cities metro area by Dr. Julia Tomlinson, DAVCSMR, PhD, DACVS, CVSMT, CCRP, a board-certified specialist in rehabilitation and sports medicine, and is the first stand-alone, rehabilitation-only veterinary clinic in Minnesota. Dr. Tomlinson was also the first such canine specialist in the state of Minnesota and co-founder of the AARV. Our clinic provides sports medicine for the working and sporting dog communities, athletic conditioning, pain management, spinal manipulation, post-op rehabilitation, hydrotherapy, diagnostic and therapeutic ultrasound, laser and PEMF therapies, PRP and prolotherapy, intraarticular injections, shockwave therapy, prostheses, and orthoses, and most recently radionuclide therapy for osteoarthritis (Synovetin).
Continue reading below ...
In 2020, Dr Tomlinson co-founded Veterinary Rehabilitation & Orthopedic Medicine Partners (VROMP), and Twin Cities Rehab became their flagship partner clinic. She has developed a Sports Medicine and Rehabilitation specialist program and is currently training two resident doctors. Our Twin Cities Rehab team includes AARV members and full time CCRP veterinarians Dr. Julia Tomlinson and Dr. Amy Whaley, as well as our second-year resident Dr. Melissa Weber and first-year resident Dr. Charlotte Talbert. Our support staff includes Jenny Newgard as our office manager, rehab-certified veterinary technicians Betty Waalk, CVT, CCRA, Sam Warren, CVT VMRT, and Julia Callaghan, CCRVN, veterinary technicians Megan Nelson, CVT, Erica Levasseur, CVT, Kayla Kapaun, veterinary assistants Jordan Longtin, Sophie Kuelbs, and Claire Young, and customer service representative Kassie Yach.
As co-founder of the AARV, Dr. Tomlinson built Twin Cities Rehab with the same foundation of AARV model standards and objectives, and these values are practiced by our team daily. We are proud of the high level of innovative care that we provide our patients, the long-term relationships we've built with members of our community, and our dedicated and caring staff, many of whom have been with us for 8 years or more.
Twin Cities Rehab has grown exponentially in the past 15 years and continues to do so. With VROMP, we will continue to share resources and information with our established and developing partner clinics throughout the country. We will continue to invest in the future of veterinary rehabilitation by training new residents through our Sports Medicine and Rehabilitation specialist program. We treat many patients in rescue, as well as service and working dogs. Our partner organization VROMP has also started a donation fund called VROMP Cares, which can provide assistive funding for clients and patients experiencing financial hardships.
Information written by Office Manager Jenny Newgard
Contact Methods:
Email: jenny@tcrehab.com
Website: https://www.tcrehab.com/
Facebook: https://www.facebook.com/tcrehab