May 2022 Spotlight Practice
Stride Canine Rehabilitation and Fitness Center, LLC
Bend, Oregon
AARV Members:
Janice McConnell, DVM, CCRT, cVMA
Kristin Wolter, CVT, CCRA, CCFT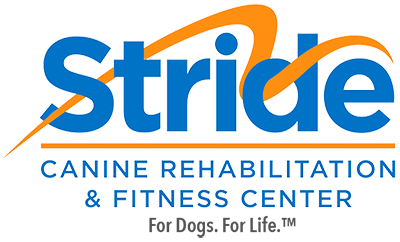 Stride Canine Rehabilitation and Fitness Center, LLC, located in Bend, Oregon, was founded in 2017 by Janice McConnell, DVM, CCRT, cVMA, and Kristin Wolter, CVT, CCRA, CCFT, and is Central Oregon's only full-service canine physical rehabilitation facility. In 2017, we were seeing patients 4 days per week in an 800-square-foot facility. We soon added our first staff member and, shortly following, found ourselves ready to move into a more suitably sized 2,300-square-foot facility. Currently Stride has a total of six team members available to support our clients and their patients over a five-day work week.
Continue reading below ...
Our caseload consists primarily of orthopedic, neurological, and geriatric mobility patients. Stride passionately strives to offer comprehensive, individualized rehabilitation solutions to enhance the unique bond our clients share with their pets. Services include diagnostic musculoskeletal ultrasound, orthotic casting and fitting, as well as a wide array of therapeutic modalities including acupuncture, hydrotherapy, class IV PBMT, ESWT, NMES/TENS, therapeutic ultrasound, and manual therapy.
We always aim to increase the level of care and services we offer by encouraging all of our team members to pursue continued professional and personal growth. Kristin and Janice both obtained their canine rehab certifications through the Canine Rehab Institute in 2008 and 2016, respectively, and are current members of AARV. Stride's additional team members include a full-time customer service representative, a full-time veterinary technician, a part-time veterinary assistant, and a part-time DPT/CCRT.
We are exceptionally grateful for the numerous long-term professional relationships with local veterinarians and devoted clients who recommend our services. These endorsements give us the pride and fortitude to continue our pursuit of excellence in veterinary rehabilitation. We look forward to continuing to expand awareness of the benefits of veterinary physical rehabilitation within our local community and expect to add therapists and support staff as we grow.
Contact Methods:
Email: janice@stridecaninerehab.com
Phone: 541-241-6664
Website: https://stridecaninerehab.com/
Virtual Tour
Facebook
Instagram