December 2019 Spotlight Practice
Steel City Canine Rehabilitation & Sports Medicine
Pittsburgh, Pennsylvania
AARV Member:
Meredith Wille, LVT, CCRP, CCFT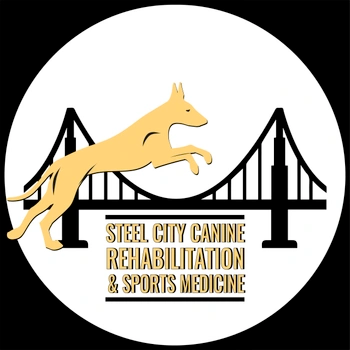 The heart of Steel City Canine Rehabilitation & Sports Medicine began in Harmony, Pennsylvania — a small town north of Pittsburgh. Veterinarian Dr. Brian Silvis and Meredith Wille, LVT, recognized the benefit of alternative therapies as a complement to conventional medicine. With a new hospital on the horizon, they both began training for veterinary rehabilitation certification and allocated a large section of the blueprints for Pets in Harmony Veterinary Hospital to a rehabilitation center. It opened its doors in March 2017, providing wellness care and general surgery while accepting referrals for rehabilitation services from other local clinics and specialists.
Continue reading below ...
The success of the new rehab center inspired Dr. Silvis and Meredith to open a standalone rehabilitation clinic closer to the city. In May 2019, Steel City Canine Rehabilitation and Sports Medicine began providing non-pharmaceutical modalities and sports medicine therapies, including Class IV laser therapy, therapeutic ultrasound, e-stim, tPEMF, hydrotherapy, land treadmill, manual therapy, physiotherapy, stance analysis, cold compression, and fitness and conditioning for canine athletes.
Clients love the relaxed atmosphere at the new facility, often commenting about its open layout and that it does not look or feel like a veterinary clinic. Local referring veterinarians are pleasantly surprised at the staff's ability to provide care to patients that are typically considered unapproachable and thought unable to be worked with. A little patience goes a long way!
The future at Steel City is bright, and the search for a larger building to expand services to include sports training and conditioning, massage, chiropractic care, acupuncture and additional hydrotherapy options has already begun.
An AARV member, Meredith completed her CCRP in 2017, her CCFT certification in 2019, and is currently pursuing certification in canine pain management. Dr. Silvis continues to advance towards his CCRP while providing routine veterinary care at his general practices. Jessika Strauss, DPT, CCRT, was hired as a spectacular addition to Steel City's therapy staff, and in August 2019, assistant Michelle joined the team to aid in client communication and patient treatments.
In late November of 2019, Meredith stumbled across a special dog at a shelter in northeast Ohio. Bertha, a Puggle so severely obese that she cannot walk, can be mistaken for a brown pot-bellied pig at a distance. Without extreme, immediate intervention, her days were numbered.
Knowing she can make a huge difference in this not-so-little dog's life, Meredith brought her home to Pennsylvania and took on simultaneous roles as Bertha's foster mom, fitness trainer, and nutritional coach.
Bertha has quickly gained a fan base on social media (follow her on Instagram @bertha_gets_bitty), and her team of cheerleaders are excited to support her journey to fitness and provide words of encouragement.
In her first week of hydrotherapy and proper diet, she lost nearly a pound — a perfect start! The entire team at Steel City Canine Rehabilitation & Sports Medicine looks forward to Bertha's improved quality of life and hopes that her success will inspire others to take steps towards health and wellness for their own pets.
Information written by AARV member Meredith Wille, LVT, CCRP, CCFT
Preferred Contact:
Steel City Canine Rehabilitation & Sports Medicine
998 Perry Highway
Pittsburgh, Pennsylvania 15237
Website: https://steelcityk9rehab.com/
Phone: 412-837-2047