July 2017 Spotlight Practice
Somers Animal Hospital
Somers, New York
AARV Member:
Tim Walker, DVM, DABVP, CCRP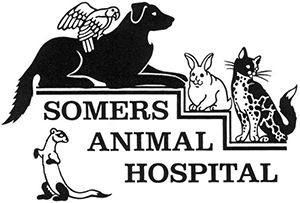 Somers is a beautiful town in northern Westchester County, about an hour north of New York City. Somers Animal Hospital has been an important part of the local community for many decades. Part of the reason for our continued success is that our practice is constantly growing and changing with the opportunities and demands of modern veterinary medicine.

Over the years we often found ourselves frustrated by a group of common problems. These range from a poor return to function after orthopedic surgery, to patients coming in with a recurrent or vague lameness, or the obese or older arthritic pet that is just not doing well. Around 2012 we realized there was an answer to these types of problems, and it was physical rehabilitation. We spent the next year referring patients, about an hour away, for these services. Over time we became discouraged by the fact that many clients were not pursuing rehabilitation for their pets, largely because it was just not convenient and readily available. It was at this point that we decided to take matters into our own hands, with the goal of developing our own physical rehabilitation department.

Continue reading below ...
Our rehabilitation program was slowly built from the ground up. It began with recommending basic therapies while Dr. Tim Walker was going through the University of Tennessee rehabilitation certification program. We found that instead of just telling owners to go somewhere else for therapy, it was far more effective to get down on the floor with them and show them how to perform simple and effective exercises they could do at home. The owners began to feel part of the team. We had our compliance issue figured out.
Over the last few years our physical rehabilitation department has steadily grown. Dr. Walker is a Certified Rehabilitation Practitioner and oversees all therapy. He works closely with Serena Fiorella, a Licensed Veterinary Technician and personal trainer. We have multiple trained assistants who work with them daily. We have gradually built the program on a foundation of simple therapeutic exercises and manual therapies, to now offering class IV laser therapy, electrical nerve stimulation, acupuncture, land treadmill, intra-articular injections including stem cell therapy and platelet rich plasma, and diagnostic musculoskeletal ultrasonography. We are very excited to announce we are in the final stages of planning the installation of our new underwater treadmill.
Somers Animal Hospital is a complete general practice. We have an internist on staff and provide advanced orthopedics including arthroscopy. We have developed a rehabilitation department we are extremely proud of that fits the needs of our clients. We have found it immensely beneficial for our patients to have physical rehabilitation wound into the fabric of our daily practice. For more information, please visit somersanimalhospital.com, like us on Facebook, email us at info@somersanimalhospital.com, attention Jenn, or call us at 914-277-3686.

Contact
Somers Animal Hospital
352 Route 202
Somers, NY 10589
Phone: 914-277-3686
Email:info@somersanimalhospital.com (attention Jenn)
Website: somersanimalhospital.com