February 2020 Spotlight Practice
River Veterinary Rehabilitation and Pain Management Center
Springfield, Missouri
AARV Members:
Kara Amstutz, DVM, CCRT, CVPP, CVA, Resident of ACVSMR
Linda MacDougall, CCRA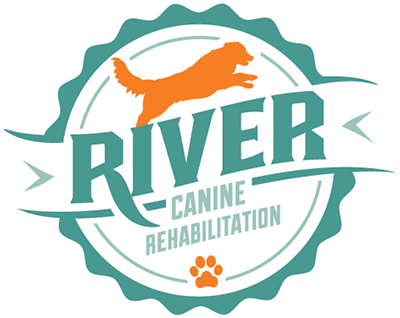 River Veterinary Rehabilitation and Pain Management Center is within Hometown Veterinary Hospital in Springfield, Missouri. The hospital is owned by AARV member Dr. Kara Amstutz, a 2000 graduate from the University of Missouri College of Veterinary Medicine. The practice was started in 2002 as a house-call practice, but over the years has grown to a 4-veterinarian practice. The state-of-the-art 7,000-square-foot facility is a top-tier general practice, but also includes a rehabilitation gym, restorative therapy room, dedicated rehabilitation exam rooms, and a hyperbaric oxygen therapy room. This growth was stimulated by Dr. Amstutz's relentless pursuit of providing the best medicine for her patients with a special focus on pain management, quality of life, functional movement, and the deep respect for the human animal bond.
Continue reading below ...
Dr. Amstutz is certified in Rehabilitation (through the Canine Rehabilitation Institute), is a Veterinary Pain Practitioner (through the International Veterinary Academy of Pain Management) and Acupuncturist (through the International Veterinary Acupuncture Society). In 2017 she began the journey of earning the qualifications to be considered for board certification through the American College of Veterinary Sports Medicine and Rehabilitation. She hopes to be able to complete this goal in 2022.
Our rehabilitation department is named after a very special senior Golden Retriever with multiple joint osteoarthritis, named River. River was rescued as a 10-year-old with several health issues, but his new adoptive family wanted to provide him the love and comfort he deserved in whatever time remained. We began caring for him in 2010 utilizing our newly found rehabilitation techniques and pain relief tools. He slowly got better and better, and one day his owners came into the clinic to let us know he ran that day! He RAN!! They had never witnessed him running in the several months he had lived with them. What a rewarding feeling to know that because of our help, this sweet old boy was able to run like a young dog again. Seeing his progress encouraged us to learn more so we could help more patients like River. Sadly, River passed away in 2013, but when we built our new facility in 2014, we decided to name the rehabilitation department in his memory. We all cried happy tears when we shared this decision with River's family. River is remembered in our name and is represented by the jumping, happy Golden in our logo.
We see a diverse population of patients at River. This may include surgical or non-surgical orthopedic disease; neurologic conditions such as IVDD, FCE, brachial plexus injury; sporting dog injuries and conditioning; geriatric patients with multiple joint osteoarthritis and other comorbidities; and chronic pain cases. We also see cats, goats, and rabbits!
When a new patient joins our family, Dr. Amstutz spends a great deal of time reviewing the patient's history and performing a meticulous musculoskeletal, neurologic, pain, and functional fitness evaluation. Based on the initial exam findings, additional diagnostics may be recommended. This may include diagnostic musculoskeletal ultrasound which Dr. Amstutz has performed now for 3 years. A comprehensive rehabilitation plan is formulated by Dr. Amstutz for each patient based on their specific needs. This includes pain management, lifestyle modifications, nutrition, and both formal rehabilitation and in-home therapy.
The rehabilitation plan is then discussed with the River team to strategize how to best achieve the goals. Gym therapy and modalities such as e-stim, therapeutic ultrasound, photobiomodulation, and massage are performed by Linda MacDougall, CCRA, and Scarlett Bruton, RVT. Manual therapy, acupuncture, diagnostics, and procedures such as joint injections, biologic medicine, and evaluations are performed by Dr. Amstutz and her team of Courtnie Vigesaa, RVT, and assistant Jeannie Williams. Korie Custer, CSR, rounds out our crew providing amazing client support. In addition to rehabilitation services, the team at River provides custom assistive device fittings and adjustments with orthoses and carts. Communication amongst our team is enhanced with twice-daily rehabilitation rounds to discuss each patient coming in for the day. We discuss the pet's progress and any adjustments needed to optimize our time spent with the patients and their owners. We have regular and clear communication with the pet owner as well. Our goal is to partner with the owner to provide the best care possible for their pet. Aside from patient care, we feel educating the pet owner is our biggest responsibility. We love to teach about anatomy, disease process, proper management of pets in the home setting, and how to properly do home exercises. We provide regular follow-up examinations as well. We also have great relationships with our referring veterinary community. Dr. Amstutz enjoys teaming with the primary veterinarian to provide the best care for their patients.
Our goals for future growth include moving our rehabilitation facility into its own space and adding additional team members in the next 2-4 years. While we are proud of the cutting-edge medicine and therapies we provide to our little corner of the world, we are MOST proud of the relationships we make with our clients and their beloved pets. We help extend the most valuable gift a pet owner has — the human-animal bond. We love what we do, and it shows.
Information written by AARV member Kara Amstutz, DVM, CCRT, CVPP, CVA
Preferred Contact:
Kara Amstutz, DVM, CCRT, CVPP, CVA
River Veterinary Rehabilitation & Pain Management Center
2215 W. Republic Road
Springfield, MO 65807
Phone: 417-860-2429
Email: riverK9rehab@gmail.com
Website: www.rivercaninerehab.com
Facebook: https://www.facebook.com/rivercaninerehab