January 2023 Spotlight Practice
Resurgence Veterinary Mobility
Decatur, Georgia
AARV Members:
Cara McNamee, DVM, cVMA, CCRT
Carol Anne Phillips, OTR/L, CCRP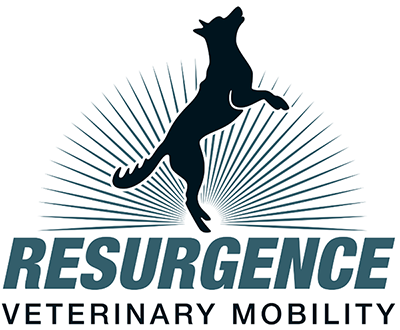 Resurgence Veterinary Mobility is a brand-new standalone rehabilitation practice in Decatur, Georgia. Dr. Cara McNamee, the managing veterinarian, had a solo mobile rehab and acupuncture practice in Atlanta since late 2019, and partnered with VROMP to build their first start-up practice. We have been open in our facility since December, after operating out of a temporary facility during construction. We have been working with a varied caseload including geriatrics, post-ops, and neurologic injuries, and offer a variety of modalities including photobiomodulation, acupuncture, shockwave, and underwater treadmill.
Continue reading below ...
Our team is fantastic, exceptionally passionate about providing top-quality care, and willing to get out of their comfort zones and try new things in a start-up environment. Our team consists of Cara McNamee, DVM, cVMA, CCRT; Jamie Harmon, DVM, CCAT (pending); Carol Anne Phillips, OTR/L, CCRP; Shari Wenger, LVT, CCMT, CCRP (pending); and Amanda Berjeski, Practice Manager.
Our facility is also beautiful! As we grow, we'd like to add additional team members, increase our working/sporting dog caseload, and start doing musculoskeletal ultrasound and regenerative medicine. We are also working on developing a relationship with PAWS Atlanta!
Preferred Contact:
Amanda Berjeski, Practice Manager
Email: amanda@rvmga.com
Phone: 770-884-2227
Website: https://rvmga.com