September 2017 Spotlight Practice
Pawsitive Strides Veterinary Rehabilitation and Therapy
Des Moines, Iowa
AARV Members:
Nancy T. Peterson, DVM, CCRT, CVA, CVSMT, CAC
Megan VanGundy, RVT, CCRA
Mary Carroll, RVT, CCRA, CCMT (pending)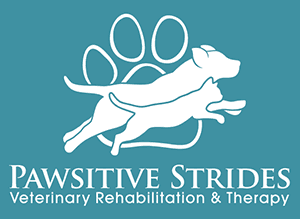 Pawsitive Strides Veterinary Rehabilitation and Therapy is a veterinary rehabilitation facility located in downtown Des Moines, Iowa. We began practicing in 2014 out of our full-service small animal hospital, Ingersoll Animal Hospital, and proudly opened the doors to our newly remodeled facility in November 2016. Our goal at Pawsitive Strides is to alleviate pain and restore our patients to maximal function, improving their quality of life. Our motto — Relieving Pain, Promoting Fitness, Improving Recovery — speaks to our dedication to our patients.

We are pleased to offer orthopedic rehabilitation, neurological rehabilitation, sports medicine consultation, integrative or holistic medicine disciplines such as acupuncture and chiropractic, diagnostic ultrasound, weight management, manual therapy techniques, laser therapy, NMES/TENS, underwater treadmill therapy, land treadmill therapy, therapeutic exercise, massage therapy, pulsed electromagnetic field therapy, and intra-articular injections including PRP.

Continue reading below ...
Our practice owner, Dr. Nancy T. Peterson, DVM, CCRT, CVA, CVSMT, CAC, was born and raised in Altoona, Iowa. Dr. Peterson received her Doctorate of Veterinary Medicine from Iowa State University's College of Veterinary Medicine in 1981. Dr. Peterson joined Ingersoll Animal Hospital as an associate veterinarian in 1981 and purchased the practice in 2005. Dr. Peterson's vision of integrative veterinary care continued to grow and led her to establish Pawsitive Strides Veterinary Rehabilitation & Therapy. Dr. Peterson has also spent the last 34 years training her pets in obedience and agility, reaching national recognition and master levels with many of her dogs.

Our rehabilitation team consists of Dr. Shirley Harder, DVM, who worked as an equine veterinarian for 35 years. She recently retired from the equine field and joined our team, bringing 40 years of experience in canine agility and obedience. Mary Carroll, RVT, CCRA, CCMT, completed her CCRA with the Canine Rehabilitation Institute, and she is currently working to complete her CCMT with the Chicago Canine School of Massage. Mary enjoys seeing each patient through their rehab experience from start to finish, experiencing and contributing to the progress they make over time. Becky Nichols, CVA, CLT, CCMT, has worked at Ingersoll Animal Hospital over 30 years, completing her CVA and CLT during that time. She completed her CCMT in 2016 at the Chicago Canine School of Massage. Becky also brings 12 years of experience in canine agility and obedience training to our team. Megan VanGundy, RVT, CCRA, completed her CCRA with the Canine Rehabilitation Institute in 2016. Megan has special interest in quality of life and end of life care for our senior pets.

Every dog or cat deserves the best quality of life for the longest time possible. For more information on how we can help your pet, please visit our website at www.pawsitivestridesdsm.com, like us on Facebook at https://www.facebook.com/PawsitiveStridesDSM/, email us at pawsitivestridesdsm@gmail.com, or call us at 515-575-9655.
Contact
Pawsitive Strides Veterinary Rehabilitation and Therapy
2911 Ingersoll Ave.
Des Moines, Iowa 50312
Phone: 515-575-9655
Email: pawsitivestridesdsm@gmail.com
Website: pawsitivestridesdsm.com