August 2019 Spotlight Practice
Niagara Canine Conditioning Centre
St. Catharines, Ontario, Canada
AARV Members:
Keri Evers, DVM, CCRP
Barbara Lee, PT, MCPA, DCR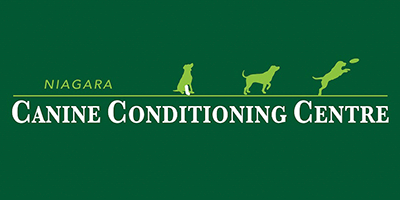 The Niagara Canine Conditioning Centre is the result of a unique and equal partnership between a veterinarian, Keri Evers, and a physiotherapist, Barbara Lee, who are both certified in canine rehabilitation. It is the first (and still the only) full-service, rehab-only facility for pets in the Niagara Peninsula, opening its doors on Feb. 1, 2016. Although it says "canine" in the name, dogs and cats alike benefit from the expertise and collaboration of therapists from both sides of the field and a facility which enables them to exercise year-round. We offer LASER, therapeutic ultrasound, TENS, NMES, acupuncture, massage therapy and manual therapy. Our gym is fully stocked with FitPaws and TotoFit equipment as well as 2 land treadmills. We also have an 18' x 10' swimming pool that is used for rehab and recreational swimming. We added a Stance Analyzer in 2018, which has been a great tool for developing a baseline and monitoring progress, especially in our CCLD patients. Our main caseload is CCLD and IVDD dogs, both surgical and medical management cases. We also have a large senior dog population, which is growing with the introduction of our new senior care program that features the LASER acupuncture protocol taught at STAAR 2019. Another popular program is our wheelchair rental plan ... we often joke that we have a small fleet running around Niagara.
Continue reading below ...
Our team consists of: Keri Evers, DVM, CCRP (AARV member), who developed an interest in rehab and sports medicine while competing with her own dogs and completed her training through the University of Tennessee in 2014; Barbara Lee, PT, MCPA, DCR (AARV member), physiotherapist, horse owner and dog lover, who often applied her PT skills to her own pets before completing her certification through the Animal Rehab Division of the Canadian Physiotherapy Association; Emilija Puteris, RVT, CCARA, completed a full year certificate course in companion animal rehab at Northern College in Ontario, CAN; Marcia Ridley, our customer care specialist extraordinaire; Christine Moody our certified veterinary medical office assistant; and Carlea Bovine, RMT, CMT who comes in twice a week to provide massage services for our patients.
We are most proud of the partnership we have created and the success we have had as a brand-new business in our area, recently receiving the "Outstanding New Business" Award at the Niagara Business Achievement Awards. Our client base has doubled every year as we work to educate the local vets and the public regarding the existence and benefits of rehab for pets and working animals. We attend local pet-related events and host 2 open house fundraisers each year, benefitting a different animal-related charity at each one. Our success is due in no small part to the high level of customer care and satisfaction that we strive to achieve as the vast majority of new people coming through our doors have heard of us from their vets or a friend who has had a pet treated by us. We love what we do, and we thrive on the joy we see in our clients as their furry friends improve. We look forward to being open 6 days a week in a much larger facility that will allow us to provide training space for local dog sports teams and a sterile procedures room so that we can branch into regenerative medicine and remain on the forefront of animal rehab medicine in Ontario and Canada.
Information written by AARV Member Keri Evers DVM, CCRP
Preferred Contacts:
Keri Evers DVM, CCRP
Niagara Canine Conditioning Centre
188 Bunting Rd., Unit 5A
St. Catharines, ON L2M 3Y1
Phone: 289-362-5900
Email: nccckeri@cogeco.net
Website: www.canineconditioningcentre.ca