May 2021 Spotlight Practice
Florida Veterinary Rehabilitation
DeLand, Florida
AARV Member:
Lisa Mason, DVM, CCRT, CVA, CVPP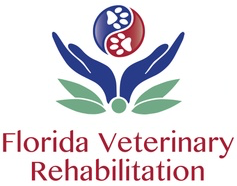 Florida Veterinary Rehabilitation (FVR) is a standalone veterinary rehabilitation and sports medicine facility located in DeLand, Florida. The practice was established in July of 2018 by Dr. Lisa Mason, DVM, CCRT, CVA, CVPP. Dr. Mason, Managing Veterinarian, graduated from Auburn University College of Veterinary Medicine in 2012 and went on to attend the Canine Rehabilitation Institute and Chi Institute to obtain certificates as a Canine Rehabilitation Therapist and Veterinary Acupuncturist, respectively. Additionally, in 2020 Dr. Mason completed the IVAPM's certification program to become a Certified Veterinary Pain Practitioner. Dr. Mason now leads a team of seven that complement her expertise with broad-reaching skillsets. The rehabilitation team includes chiropractor John Humbert, DC, CCRA, CAC, fitness trainer Caitlyn Canada, CCFT, and massage therapist Natalie Herrick, CCMT.
Continue reading below ...
Within the practice's 2,700 square foot facility in Central Florida, Dr. Mason and her team perform rehabilitation evaluations on dogs and cats with the goal to improve mobility. To reach the best possible outcomes for their patients, the FVR team provides expert consultations and delivers services including rehabilitation, acupuncture, chiropractic, hydrotherapy, shockwave, laser, PEMF, stance analysis, therapeutic massage, cart and orthotic fitting, nutrition and supplement guidance, musculoskeletal ultrasound, and regenerative medicine. They treat a variety of conditions including: osteoarthritis, soft tissue sprains and strains, orthopedic and neurologic surgical rehabilitation, conservative management of back injuries and other neurological disorders and also perform sports evaluations and conditioning.
The FVR team strives to provide a friendly and relaxing atmosphere for their clients and patients to heal. They consider their clients and patients as part of the family, providing red carpet service to all. They work closely with several non-profit rescues including: LoveyLoaves special needs rescue, Poodle and Pooch Rescue, and Lil Rascals Dog Rescue. In addition to her leadership at FVR, Dr. Mason also takes an active interest in lecturing and supporting education opportunities for other colleagues in the space. To date, she has been responsible for creating and delivering educational content to numerous organizations including Online Pet Health, Florida Veterinary Medical Association, Volusia-Flagler Veterinary Medical Association, Companion Animal Health, and Elvation Medical. She also provides internship opportunities to graduating rehabilitation therapists and assistants.
In March of this year, Dr. Mason and Florida Veterinary Rehabilitation became a partner-practice of Veterinary Rehabilitation & Orthopedic Medicine Partners (VROMP). The group was co-founded by a small and closely-knit team of veterinary and business management resources including AARV founder Dr. Julia Tomlinson, BVSc, MS, PhD, DACVS, DACVSMR, CCRP, CVSMT, and advisor Dr. Evelyn Orenbuch, DVM, DACVSMR, CAVCA. The group is dedicated to partnering with and mindfully growing specialty practices focused solely on high quality, non-surgical, rehabilitation and orthopedic medical care.
Prior to the formal partnership, Dr. Mason worked with VROMP to develop a growth plan for the practice which they are now actively working together to implement. This growth plan includes developing her existing team, growing her team through new roles including the addition of a second veterinarian and assistants in future months and expanding the footprint of Florida Veterinary Rehabilitation to increase accessibility to physical rehabilitation services within Central Florida.
Preferred Contacts:
Hospital Administrator Carrie McCord
Email: flvetrehab@gmail.com
Website: https://flvetrehab.com/
Facebook: https://www.facebook.com/flvetrehab/
Instagram: https://www.instagram.com/flveterinaryrehab/