August 2017 Spotlight Practice
Canine Rehab of New York
New York, New York
AARV Members:
Bonnie Brown, VMD, CCRP
Carly Arbitman, LVT, CCRP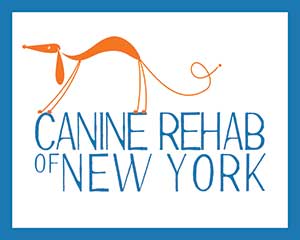 Canine Rehab of New York is located on the Upper West Side in New York City. In 2013, Dr. Bonnie Brown purchased a class IV laser for her veterinary practice, Gotham Veterinary Center. The benefits of laser therapy were clear, but Dr. Brown felt that there must be more to offer ailing dogs in addition to rest, anti-inflammatory medications, and laser therapy. She reached out to the laser manufacturer and was introduced to the world of canine rehabilitation and decided to get her certification.

Dr. Brown, the owner of Canine Rehab of New York, and Carly Arbitman, a licensed veterinary technician and Dr. Brown's assistant, both completed the Canine Rehab Certification Program at the University of Tennessee. They both attend rehab conferences, working with leaders in the field to build on their knowledge base. Because of Dr. Brown's passion for canine rehab and what it can do for patients, she opened her own canine rehabilitation facility in November 2015.

Continue reading below ...
The main focus of our center thus far has been rehabilitation of patients who have orthopedic or neurological problems, and treating osteoarthritis. The Canine Rehab of New York team consists of Dr. Brown, Licensed Veterinary Technician Carly Arbitman, and several trained assistants. We offer rehab consultations for diagnosis, pain management, manual therapy, therapeutic exercise programs, laser and extracorporeal shockwave therapy, therapeutic ultrasound, underwater treadmill and intra-articular injections including PRP and stem cell therapy.

Our goal is to provide a functional and pain-free quality of life for our patients. We are very proud of our successes and the opportunity to educate clients and our colleagues about the importance of rehabilitative medicine. In the future, we would like to expand our reach to the many patients that need our services and to add programs for fitness and conditioning. For more information, please visit our website at caninerehabofny.com, like on us on Facebook, or call Carly at 212-222-0010.
Contact
Canine Rehab of New York
700 Columbus Avenue
New York, NY 10025
Phone: 212-222-0010
Email: info@caninerehabofny.com
Website: caninerehabofny.com