April 2017 Spotlight Practice
CARE Pet Therapy (Complementary and Animal Rehabilitation Essentials) at Veterinary Medical Center of Central New York
East Syracuse, New York
AARV Members:
Lis Conarton, LVT, CCRP, CVPP, VTS (phys rehab-OC)
Molly Flaherty, DVM, CCRP, CVA, VSMT, CVPP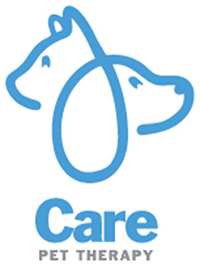 CARE Pet Therapy (Complementary and Animal Rehabilitation Essentials) at Veterinary Medical Center of Central New York opened in July 2016 and is the premier rehabilitation facility in the Syracuse, New York area. The CARE addition was added to an existing specialty referral and 24-hour emergency practice where rehabilitation services were previously housed.

Veterinary Medical Center of CNY was opened by Timothy Robinson, DVM, DACVS, in 2002 as a 24-hour emergency facility with surgical and internal medicine specialties. The practice was supportive of rehabilitation therapies early on and facilitated Lis Conarton, through her CCRP certification, to provide adjunct rehabilitation services. An underwater treadmill was added to the practice in 2006 to facilitate expansion of this service.

Dr. Molly Flaherty joined VMC in 2015 as our rehabilitation veterinarian. Plans were underway at that time to expand the space required for the growing physical rehabilitation service including pain management, acupuncture and veterinary spinal manipulation therapy. These collaborative services were organized into their own specialized wing of the hospital now known as CARE Pet Therapy.

Continue reading below ...
Our facilities include a hydrotherapy room with a resistance pool and two underwater treadmills, class 3 and 4 lasers, a land treadmill, a gym room for therapeutic exercises, and four exam rooms.
Our team currently consists of three veterinarians, two veterinary technicians, one veterinary assistant and one client care representative. Molly Flaherty, DVM, and Lis Conarton, LVT, are our two CCRP-certified staff. Lis recently also became a certified veterinary technician specialist in physical rehabilitation. Jen Waldron, LVT, is in the process of completing her CCRP. Dr. Flaherty is also certified in veterinary acupuncture, chiropractic and pain management. We have two veterinarians certified in chiropractic care and three in acupuncture.
Veterinary Medical Center of CNY works closely with many non-profit organizations in many capacities, and CARE Pet Therapy is creating its own niche within that model. Currently, CARE is exploring ways to make their treatments more accessible to canine veterans in our area and was recently featured on our local news broadcast in this capacity.
We have a special focus and dedication to pain management. We are very proud to have four staff members as certified veterinary pain practitioners, including all three veterinarians and Lis. This is an important part of each rehab case, and our veterinarians also provide consulting on pain management with surgical and emergency services housed in the same facility. We feel all of the services we offer through CARE contribute to a strong pain management program.
We are happy to have Lis Conarton as an upcoming speaker at the STAAR Veterinary Rehabilitation conference. She will present the workshop titled, Looking Beyond Primary Disorder: Using Therapeutic Exercise to Identify and Treat Compensatory Dysfunction.
Team members:
Alesha Brown, Client Care Representative
Michelle Burnett, DVM, CVA, CVPP
Lis Conarton, LVT, CCRP, CVPP, VTS (phys rehab-OC)
Molly Flaherty, DVM, CCRP, CVA, VSMT, CVPP
Polly Fleckenstein, DVM, CVA, VSMT, CVPP
Sue Kucsynski, Veterinary Assistant
Jen Waldron, LVT, CCRP pending

Contact
CARE Pet Therapy at Veterinary Medical Center of CNY
5841 Bridge St., Ste. 200
East Syracuse, NY 13057
Phone: 315-446-7933
Email: Care@vmccny.com
Website: vmccny.com