July 2021 Spotlight Practice
Animal Therapy Center
Bethlehem, Pennsylvania
AARV Members:
Ashley Nixon, DVM, CVA, CVMRT, CVSMT, FCOAC
Jaime Torley, CVT, CCRP, CCKTP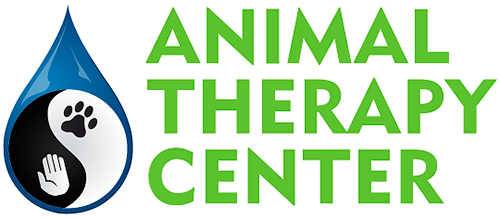 The Animal Therapy Center is Pennsylvania's largest state-of-the-art facility of animal rehabilitation and integrative medicine. It is located in Bethlehem, in the Lehigh Valley. The ATC places a strong focus on education – both for staff and our pet owners to help everyone make the best decisions for the patients. The practice is looking forward to seeing everyone for educational seminars in the (hopefully) near future. Everyone misses the increased interaction with clients and the public after COVID-19 and is so excited to welcome clients back in to take a more active role in their pet's therapy! As always, the ATC is dedicated to community involvement and supports local non-profits.
Continue reading below ...
The practice sees a diverse caseload including puppies with congenital concerns, post-op orthopedic and neurologic patients, weight loss patients, and geriatrics. The modalities available include hydrotherapy (underwater treadmill and a pool), land-based exercises, therapeutic ultrasound, laser, TENS/NMES, massage, acupuncture and chiropractic. Digitherm is also available for the ATC's patients. Dr. Ashley Nixon, who is certified in rehabilitation, massage, acupuncture, and spinal manipulation, serves as the medical director of the facility and works closely with skilled therapy staff, which includes Elana Ortiz, CVT. Jaime Torley, CVT, CCRP is additionally certified in kinesiology taping as well as rehabilitation. Dr. Diane Gabriel VMD, CVA, CVCHM, provides acupuncture and holistic services to the practice as well.
Everyone at the center is committed to patient success and believes in addressing the root cause(s) of symptoms to ensure the best outcome possible for all patients. This is done through a comprehensive review of therapy modalities, home programs, supplements/nutraceuticals, and pharmaceuticals. Weight loss is so challenging for many patients, and support and help is available to help the process.
The ATC is deeply committed to providing individualized care that is accessible for owners and their pets in a safe environment. The staff has extensive knowledge of the modalities available for our patients, orthotic and prosthetic options, and creative options for some of our less cooperative patients. Besides local (and some not so local) pet owners, the practice works closely with several area rescues including Road Dogs & Rescue, as well as with working dogs in the community. While the primary case load is dogs and cats, the ATC will happily work with a wide variety of species.
Preferred Contact:
Brittany Helfrich
Email: info@animaltherapycenter.com
Website: https://animaltherapycenter.com/
Facebook: https://www.facebook.com/animaltherapycenter
Instagram: https://www.instagram.com/animaltherapycenter