October 2016 Spotlight Practice
Animal Surgical Clinic of Seattle
Shoreline, Washington
AARV Members:
Leslie Eide, DVM, CCRT
Kristin Kirkby Shaw, DVM, MS, PhD, CCRT, DACVS, DACVSMR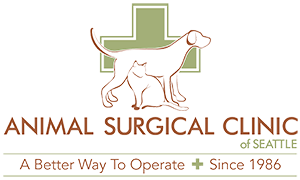 The Animal Surgical Clinic of Seattle offers the largest comprehensive rehabilitation department in the state of Washington. We are proud to provide a service that epitomizes the practice standards set by the AARV: that of collaboration and communication between our surgeons, therapists, technicians, clients and referring veterinarians.
Continue reading below ...
We have four board-certified surgeons who recognize the importance of rehabilitation for their patients and are always willing to discuss cases with the rehab team and referring veterinarians. Our two rehabilitation veterinarians, Leslie Eide, DVM, CCRT, ACVSMR Resident (PE Pathway), and Kristin Kirkby Shaw, DVM, PhD, CCRT, DACVS, DACVSMR, are accompanied by physical therapist Sunny Rubin, PT, CCRT; two LVTs, Vanessa Ormiston, LVT, CCRP and Liz Brown, LVT, CCRA; and a full-time rehab assistant, Mike Zylstra, VTA.
Our veterinarians directly oversee our technicians with all patient care. We see a variety of cases, including post-surgical, neurologic, and chronic pain management. While Dr. Shaw's primary focus (when she isn't being a full-time surgeon) is management of arthritis and orthopedic injuries, Dr. Eide is a true expert in the field of canine agility and sports medicine. She is highly competitive in canine agility with her own dogs, and after joining ASCS less than one year ago, Dr. Eide is quickly building a heavy case load in canine sports medicine, including providing fitness and conditioning programs to help dogs avoid injury.
Our surgeons offer diagnostic services such as CT and arthroscopy, and we work closely with radiologists highly experienced in musculoskeletal ultrasound so that our patients can have a thorough diagnosis prior to treatment planning. Modalities offered include Laser (Class IIIb and IV), ESWT, therapeutic ultrasound, PRP, stem cell therapy, UWTM, land treadmill, and land exercises with fitness equipment.
We have students visit from all across the country and the world, in fact we currently have a veterinary student from Zurich who is working on her master's thesis with our rehabilitation service. Animal Surgical Clinic of Seattle prides ourselves on patient care, client communication and education, and maintaining a positive, supportive working environment. We are also proud to be members of the AARV.
For further information about Animal Surgical Clinic of Seattle, please contact our hospital manager Noelle Norrie at 206-545-4322, ext. 110 or Vanessa Ormiston, LVT, CCRP, at rehab@animalsurgical.com.
Contact:
Animal Surgical Clinic of Seattle
14810 15th Ave. NE
Shoreline, WA 98155
Phone: 206-545-4322, ext. 110
Website: animalsurgical.com
Email: rehab@animalsurgical.com