February 2019 Spotlight Practice
Ajax Animal Hospital & Rehabilitation
Ajax, Ontario
AARV Member:
Karyn Jones, BSc, DVM, CCRT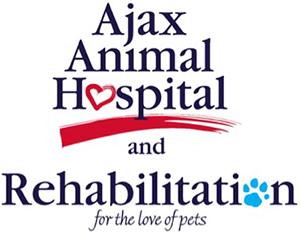 The Ajax Animal Hospital & Rehabilitation team shares their lives with (at last count) 18 dogs, 36 cats, 6 horses and 3 rabbits! This shared understanding of the human-animal bond drives a deep commitment to preventing and treating companion animal pain and led us to open our Rehabilitation Service in September 2017.
Facilities of AAH&R include an open and friendly rehabilitation gym and fitness centre as well as a comfortable and spacious assessment and consultation room. Modalities like an underwater treadmill, Stance Analyzer, Class 4 Therapeutic K-Laser, TENS and NMES units, and extensive rehabilitation fitness equipment help all patients stay #fitforlife.
The AAH&R practice owner, Dr. Karyn Jones, experienced personally the challenge of controlling osteoarthritis pain for her active and playful Flat-Coated retriever, Lyvie, as she aged, and she now strives to keep her Miniature Long Haired Dachshund, Zelda, fit to limit injury by supporting her spine and joints. (In fact, you can watch adorable Zelda learn her strength and proprioception exercises on the @AjaxAnimalRehab YouTube Channel in weekly installments of #WorkoutWednesday with Zelda.)

Continue reading below ...
Dr. Karyn has been in practice for 18 years with a consistent focus on pain prevention and mobility maintenance in her patients. In July 2017, after an internship at Colorado State University, she completed her CCRT through the Canine Rehabilitation Institute.
Chris, the rehab RVT, has been with Ajax Animal Rehabilitation from the start, and he completed his CCRA in August 2018. He works with patients and their pet-parents to provide hydrotherapy, laser therapy, e-stim and helps to teach dogs and their people the skills required to carry out targeted therapeutic exercise programs.
Dr. Lisa Bowes, who is certified in both Veterinary Medical Acupuncture and Spinal Manipulation Therapy, works with the AAR team by delivering these specialized treatments to our canine and feline patients.
Nicole, RVT, is experienced with underwater treadmill treatment and conditioning sessions.
Prescribed laser treatments are booked with the experienced vet tech team of Karen S., AHT; Karen B., RVT; Tania; RVT; and Sarah, RVT.
Veterinary assistants Kay, Aondrea and Melissa welcome and introduce patients to the practice and help with hydrotherapy, laser treatments and therapeutic exercise!
The AAR team works with three patient types and enjoys the different challenges and rewards each provides.
"Our beautiful and focused sport dogs and their human teammates keep us on our toes as we form a rehab partnership to minimize injury, improve conditioning and optimize performance. We love to cheer on these canine athletes as they train and compete in their local clubs and sometimes on the international stage."


"Post-operative/post-injury rehabilitation therapy provides measurable and rewarding results as we help return patients to pain-free mobility after soft tissue, orthopedic and neurological surgery or treatment has been performed at nearby referral hospitals."


"Special dogs with mobility challenges stemming from congenital, musculoskeletal, cancer-related, and neurological conditions often require more long-term support. We have been fortunate to build special bonds with these patients (and their people) over weeks and months of care. One unique and darling rescue dog from Standard Poodles in Need has touched the hearts of many. Dr. Karyn and Chris are proud to have helped Victoria progress in her journey from her experience as a puppy with painful, limited mobility resulting from malformed elbow and carpal joints. She is now comfortable, strong, able to hold herself upright, and move very well in both her Help 'Em Up harness and PawsAbility custom-designed front-end cart!"
Article written by AARV Member Karyn Jones, BSc, DVM, CCRT
Contact
Ajax Animal Hospital
369 Finley Avenue
Ajax, ON L1S 2E2
Phone: 905-683-6430
Email: info@ajaxanimalhospital.com
Website: ajaxanimalhospital.com/ajax-animal-rehabilitation.html