JUNE 2016 SPOTLIGHT
Veterinary and Rehabilitation Center of Cape Elizabeth (VRCCE)
Cape Elizabeth, Maine
AARV Member:
Ginger Browne Johnson, DVM, CCRP
Dr. Ginger Browne Johnson owns and operates the Veterinary and Rehabilitation Center of Cape Elizabeth (VRCCE) in the oceanside community of southern Maine. VRCCE is a full service hospital providing general medicine and surgery, preventative wellness care, dentistry, dog training, house calls and rehabilitation. VRCCE offers the services of a board certified orthopaedic and soft tissue surgeon at this AAHA-rated hospital.
Dr. Johnson received her DVM degree from Tufts University School of Veterinary Medicine in 2004 and her CCRP from University of Tennessee in 2007. She was director of rehabilitation at Animotion Animal Rehabilitation in Massachusetts before moving back to her hometown in Maine in 2012.
Her goal is to provide Maine with its first dedicated rehabilitation center staffed with the most qualified and experienced rehabilitation professionals. The rehabilitation team consists of Dr. Johnson, Debra St Laurent, LVT, LMT, CCRP, and Charles Evans, MPT, CCRP. Debra and Charles both worked as rehabilitation practitioners at Massachusetts Veterinary Referral Hospital outside Boston before joining VRCCE. Together they have more than 30 years of rehabilitation experience, offering Maine pets the best in rehabilitation care.
Rehabilitation modalities at VRCCE include hydrotherapy with our underwater treadmill, cold laser, splinting and bracing, cryotherapy, thermotherapy, e-stim, ultrasound, therapeutic exercises, massage and a home exercise program designed for each individual patient. We pride ourselves with successful results and programs by thinking "outside the box." This success rate comes from our many years of client/pet interactions and practice … practice … practice. With an experienced and fully credited staff, VRCCE now serves as an approved externship site for new CCRP candidates.
VRCCE has been serving the community for more than 30 years. It offers an interactive website, a quarterly lecture series for clients and the general public, and home delivery of medications and prescription foods. We constantly strive to accommodate our clients and their busy work schedules.
We are currently developing an open recreational space for owners and their dogs to interact and enjoy off-leash time together. What better place for fresh air, sunshine, and a romp with your best 4-legged friend?
Any questions, please contact Dr. Ginger Browne Johnson at drjohnson@vrcce.com or by phone at 207-799-6952. You can also check us out on our website www.vrcce.com and like us on Facebook!
Contact
Veterinary and Rehabilitation Center of Cape Elizabeth (VRCCE)
207 Ocean House Road (Route 77)
Cape Elizabeth, ME 04107
Phone: 207-799-6952
Email: info@vrcce.com
Website: www.vrcce.com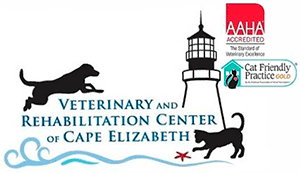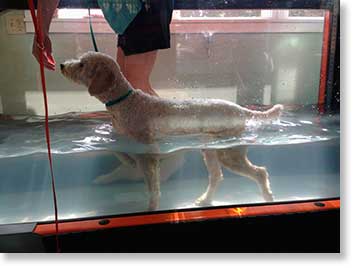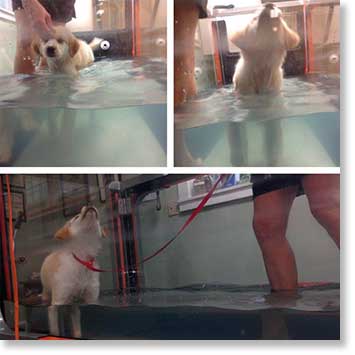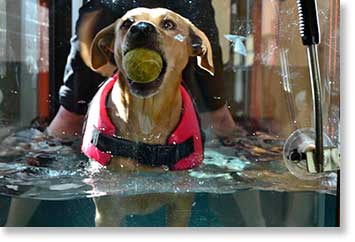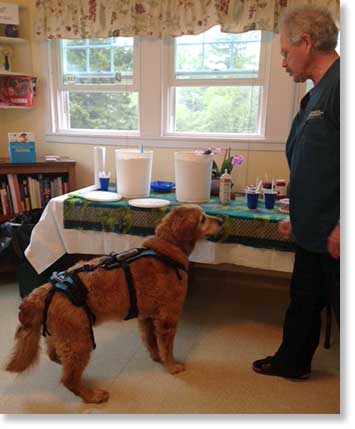 Charles Evans, MPT, CCRP, with Ollie.