AUGUST 2013 SPOTLIGHT
Integrative Pet Care (IPC) – Veterinary Rehabilitation, Fitness, and Conditioning
Chicago, Hanover Park and Homer Glen, Illinois
AARV Members:
Rosemary J. LoGiudice, DVM, CCRT, CVA, CVSMT, CAC; Megan Ridley, DVM, CVA, CCRT, CVSMT; Arlene O. Rodriguez, DVM, CCRT; Amber Ihrke, DVM, CCRT, CVA
Integrative Pet Care (IPC) is dedicated exclusively to the physical rehabilitative therapy, fitness, and holistic wellness needs of pets. Founded in Chicago in 2005 by Dr. Julie Mayer with Kellee Joost and Stacy Nigrelli, Integrative Pet Care has since, under the watchful eye of Dr. Rosemary LoGiudice (currently AARV President-elect) and Mr. Ed Heil, grown to three locations, five veterinarians (Drs. Rosemary LoGiudice, Megan Ridley, Arlene Rodriguez, Amber Ihrke, and Deanne Zenoni), four animal rehabilitation therapists, two physical therapists and a physical therapy assistant along with a paraprofessional support team of people dedicated to operations and patient services. The IPC team of highly qualified and experienced staff dedicated to the needs of our patients and their owners is the heart of the IPC mission to work with primary care veterinarians to find the right blend of traditional and complementary therapies to enhance the health and well-being of our patients.
Dr. LoGiudice came to IPC Chicago in 2010 as a partner after Dr. Mayer relocated to Arizona. Shortly thereafter, Dr. LoGiudice also partnered with Dr. Arlene Rodriguez to open Integrative Pet Care Hanover Park, in a western suburb of Chicago.
Facility Comparison – IPC Chicago and IPC Hanover Park and IPC Homer Glen
The original Integrative Pet Care in Chicago is a 6,000 square foot facility that is warm and inviting to better facilitate the healing process. In addition to state-of-the-art equipment, there is also a 1,300 square foot rehabilitation therapy gym with Sport Impact flooring, a hydrotherapy room with two underwater treadmills, a resistance swimming and massage pool, and walk-in shower for post-hydrotherapy light shampoo and rinse off, four private treatment / examination rooms with dimmable lighting, a staff break room, a private staff locker room with shower, laundry room, day-boarding kennel and cabanas and large reception area with exposed brick walls, timber beam ceilings and natural light throughout make IPC Chicago a pleasant and effective facility.
See IPC Chicago: http://www.integrativepetcare.com/facilitychicago.html
IPC Hanover Park (opened in 2011) is located in space leased from Hanover Park Animal Care Center. IPCHP has separate phone and computer systems and operates as a completely separate entity from HPACC. Facilities include an examination / treatment room, exercise room (yoga matting flooring), hydrotherapy room with one underwater treadmill and a walk-in shower, day-boarding kennels and suites. While not as large as IPC Chicago, IPC Hanover Park has proven to be a comfortable and professional environment to provide high quality rehabilitation and integrative veterinary therapies.
See IPC Hanover Park: http://www.integrativepetcare.com/facilityhanoverpark.html
IPC Homer Glen (opened in 2013) is located in space leased from Colonial Manor Animal Hospital. IPCHG has separate phone and computer systems and operates as a completely separate entity from CMAH. The facility has an examination/treatment room, exercise area and a separate hydrotherapy room with an underwater treadmill, shower and day boarding kennels. A large outside area is also available for therapies.
Dr. LoGiudice emphasizes that the most important part of providing appropriate veterinary rehabilitation services is through the hands and knowledge and skills and attitudes of those providing the services.
Dr. LoGiudice says, "Having the 'toys' is helpful, but just having equipment does not make you a rehabilitation therapist – you have to know what to do to help your patients. I tell people that owning a piano does not make someone a concert pianist any more than owning a laser or a treadmill makes someone a rehabilitation therapist."
Integrative Pet Care also serves as an approved externship site for both Canine Rehabilitation Institute and Northeast Seminars at University of Tennessee.
All services and therapies with the exception of the therapy pool (available at IPC Chicago) and Stem Cell Therapy (available at IPC Hanover Park) are available at all IPC locations. Collaboration, communication, and collegiality are important aspects among all IPC staff members.
Patient Care Teams
Another key to the quality of care delivered to IPC patients is the appropriate rehabilitation training and certification of the Patient Care Team. Each IPC Patient Care Team member is either certified in canine rehabilitation or in the process of completing her certification. We believe this is an extremely important asset for appropriate patient care. Weekly in-house training takes place among Patient Care Team members as well as brining in outside speakers for staff continuing education. Team members also attend outside meetings and seminars throughout the year for additional continuing education. Team members who attend outside seminars prepare a presentation about what they learned for in-house education for the other team members.
Dr. Rosemary LoGiudice, currently president-elect of the AARV, sees patients primarily at the IPC Hanover Park location. She is a Certified Canine Rehabilitation Therapist (CCRT), a Certified Veterinary Acupuncturist (CVA), is certified in Veterinary Spinal Manipulative Therapy (CVSMT) and is a member of the College of Animal Chiropractors (CAC). In addition to practicing at IPC Hanover Park, Dr. LoGiudice is also an instructor at the Healing Oasis Wellness Center in Sturtevant, Wisconsin, and sees equine patients through her separate practice, Animal Rehabilitation and Therapy (ART). In addition to Dr. LoGiudice, Dr. Rodriguez also sees patients at IPC Hanover Park and they work with a CVT who is also certified in canine rehabilitation and also work with a certified canine massage therapist and an on-site orthotist when needed.
Drs. Ridley and Zenoni work full time at IPC Chicago with four rehabilitation therapists, four PTs and a PTA, and an orthotist when needed, while Dr. Ihrke owns and operates IPC Homer Glen (opened in summer of 2013) and works part-time at IPC Chicago.
Services and Modalities
Visit our website for detailed information: http://www.integrativepetcare.com/ourservices.html
Some of the IPC Services include:
Underwater Treadmill
Land Treadmill
Resistance Pool (at IPC Chicago)
Therapeutic Laser – Class IV and 3b
Therapeutic Exercise
Therapeutic Massage
Neuromuscular Electrical Stimulation
Stem Cell Therapy (at IPC Hanover Park)
Fitness and Conditioning
Veterinary Acupuncture – dry needle, electro, aqua, Moxibustion
VSMT / "Veterinary Chiropractic"
Ultrasound Therapy
TENS therapy
PMES therapy
Custom Carts and Orthotics
Food Therapy Counseling
TCVM / Holistic Consultations / Evaluations
Chinese Herbs
Nutraceuticals, supplements
Complementary and Integrative Consultations and Treatments
Kennels and Cabanas / Suites for day boarding / drop-off appointments
Business Model
IPC has seen a constant growth of patient numbers at each of its three locations. One of the key factors Dr. LoGiudice sites is the highly qualified and dedicated staff and the model that IPC, at any of its locations, does not provide routine veterinary care, only rehabilitation and integrative / holistic care. Therefore, there is no direct or perceived competition with referral veterinarians. Any needed diagnostics are performed by the primary care veterinarian. This provides a comfort level for colleagues to refer without concern of competition from IPC. Communications between IPC and primary care veterinarians is open and timely. Most patients are referred to IPC, but many clients find IPC from web-searches and self refer. IPC still requests medical histories from primary care veterinarians even if not directly referred to ensure more complete medical knowledge of our patients.
Future
IPC will continue to work as a team to provide the highest possible quality of rehabilitation and holistic veterinary medical care in the Chicago area. Always learning and exploring advances in rehabilitation and integrative care, IPC staff continually seeks out additional skills and therapies to be able to provide their patients the state of the art and highest quality care.
Contact
Website: www.integrativepetcare.com
Facebook:
IPC Hanover Park – www.facebook.com/IPCHP
IPC Chicago – www.facebook.com/IPCChicago
Integrative Pet Care Chicago
2520 Armitage Avenue
Chicago, IL 60646
773-269-2964
info@integrativepetcare.com
Integrative Pet Care Hanover Park
1920 Ontarioville Road
Hanover Park, IL 60133
630-540-2660
hanoverpark@integrativepetcare.com
Integrative Pet Care Homer Glen
13726 W. 159th Street
Homer Glen, IL 60491
708-966-2600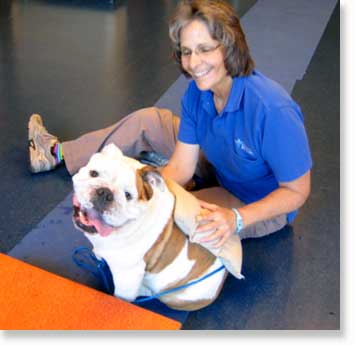 Why Join AARV?
"I believe strongly that organized veterinary medicine is the 'glue' that hold our profession together. Through AARV membership, like-minded veterinarians can work together to promote the importance of proper veterinary rehabilitation care and ensure appropriate advocacy. Sharing of information and current trends and research in veterinary rehabilitation is an important service provided to AARV members. The AARV provides a focused outlet to disseminate information to our colleagues and the public about veterinary rehabilitation and its benefits when performed appropriately."
— Rosemary J. LoGiudice, DVM, CCRT, CVA, CVSMT, CAC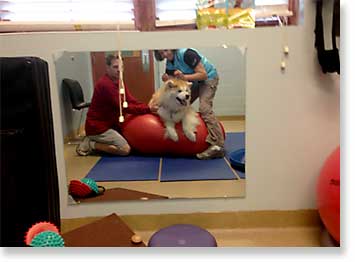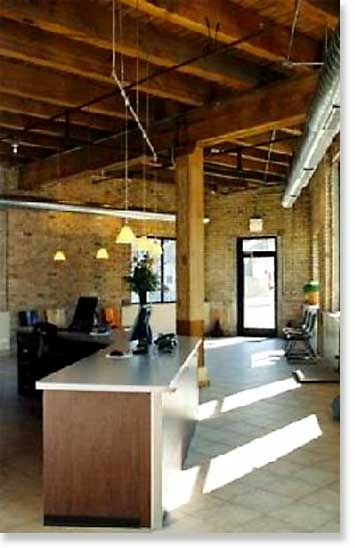 IPC Chicago reception area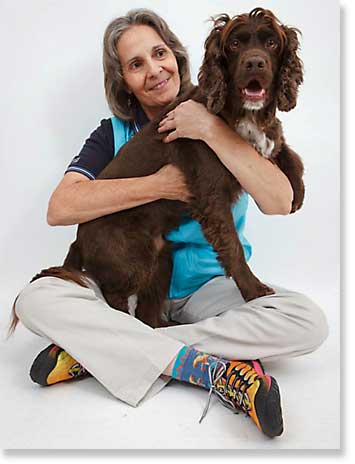 Dr. Rosemary LoGiudice with her dog, "Otter"