The SPAW is a canine rehabilitation facility located within Aldergrove Animal Hospital, a primary healthcare veterinary clinic in Aldergrove, British Columbia, Canada. The SPAW is re-opening August 9, 2014, when renovations are complete and our head technician and manager returns from maternity leave.
The SPAW is dedicated exclusively to physical rehabilitation therapy, fitness and conditioning, and sports medicine. Founded in 2004 by Dr. Jeff Bowra, The SPAW team includes Jeff Bowra, DVM, CCRP; Raceeta MacKenzie, BSc, DVM, CAC; Mark Smith BSc, DVM, MVSc, Dip (ACVS); and Jenn Panko, RVT, CCRP, OCMC, CAPMC. Our clinicians have a comprehensive set of skills including expertise in sports medicine, rehabilitation including use of modalities, orthopedic and neuro surgery, and chiropractic treatment options for our patients. They diagnose conditions and prescribe treatment including pain management and nutrition options and rehabilitation. Our technician Jenn Panko performs all prescribed treatment plans and reports all findings and progress to the clinicians, schedules further consultations with clinicians and reports back to referring veterinarians.
The SPAW is a team of highly qualified and experienced staff dedicated to meeting the needs of our patients and their owners. We aim to improve quality of life, optimize mobility, and return to function and sport.
Our clients are pleased with available hours for treatment which include evenings and both weekend days. Clients and referring veterinarians are pleased that Jenn is able to email them video progress updates using our GoPro camera. Clients are at ease knowing that The SPAW Team is a group of highly skilled professionals and that they and their pet are treated with kindness and respect and that they are a valued member of the rehabilitation team. "Homework" in the form of therapeutic exercise plans are given to every patient and monitored closely. Medical records and resources are provided to clients on their own personalized USB Drive called their "SPAW Passport," which can travel to appointments with the pet or stay at The SPAW and be taken home by the client at the end of treatment. Supplies and resources including cavaletties, weaving cones, theraballs, TENS units, therabands, boots, life jackets, harnesses, and slings are available for purchase or loaned out to clients.
Our facility boasts a separate entrance from our clinic, an indoor fitness and hydrotherapy area including an underwater treadmill located in our therapy pool, a land treadmill, a sheltered porch for therapeutic exercise, and an area to bathe and dry patients after treatment. The SPAW therapy pool is a 6 x 12 feet, 4 foot deep, stainless steel therapy pool. It has swim jets powered by two 4 horse power pumps. They create various degrees of current for the patients to swim against. It is powered by a highly specialized dehumidification system which keeps the room low in humidity while heating the pool. We were proud to be the first veterinary hospital in Canada with a hydro-treadmill and pool and this is the first of this design anywhere in the world. It has both sand and cartridge filters to keep it clean, and it is maintained daily to ensure that our water remains at optimal and safe condition to prevent any skin irritation to patients.
The SPAW accepts high school, animal care, technician, veterinary, and veterinary rehabilitation students for cooperative education placements and externships. Jenn has extensive experience teaching in both lecture and hands-on practical formats at conferences, veterinary meetings, and in academic institutions. She enjoys teaching and is eager to share her skills in the areas of orthopedic and neurologic rehabilitation, rehabilitation of geriatric patients, fitness and conditioning, rehabilitation for osteoarthritis, and how to integrate basic rehabilitation into primary healthcare with affordable supplies and appropriate supervision and mentorship by a licensed veterinarian.
SPAW Productions is a new division of The SPAW and will be bringing quality veterinary and veterinary technician continuing education to British Columbia, Canada. SPAW Productions not only hosts rehabilitation continuing education events but other topics of interest to both veterinarians and technicians.
Services
SPAW services include:
Hydrotherapy using an underwater treadmill
Recreational and fitness swims +/- resistance jets
"SPAWsitively Fit," our fitness, conditioning and weight loss program
Land treadmill
Therapeutic laser
Therapeutic ultrasound
Therapeutic exercise programs in hospital or home exercise programs
Pulsed signal therapy
Electrical muscle stimulation
Chiropractic services (through Aldergrove Animal Hospital)
Nutrition consultations in partnership with Pets Clinician
Pain management consultations in partnership with Pets Clinician
Custom carts, boots, slings, harnesses
Loaning of equipment (ramps, gates, harnesses, boots, slings, therapeutic exercise equipment, TENS machines)
Contact
For more information on The SPAW, please visit our website www.thespaw.com, "like" us on Facebook, follow us on Twitter #K9Physio, email Jenn at jennifer@thespaw.com or call or text 778-VET-SPAW (838-7729).
The SPAW
26841 Fraser Highway
Aldergrove, British Columbia, Canada V4W 3E4
778-VET-SPAW (838-7729)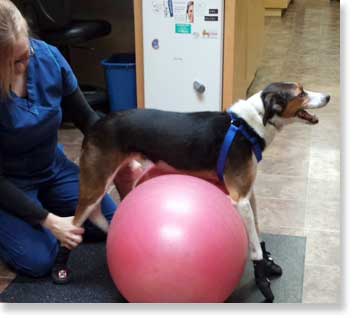 Jenn Panko with Wheagles showing correct hind limb placement.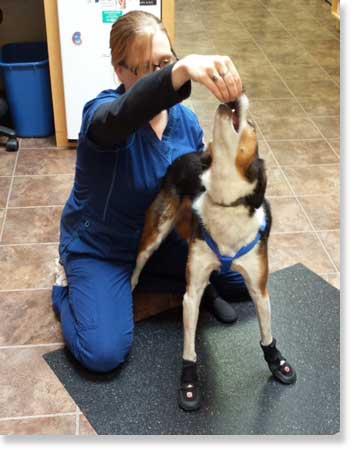 Standing neck stretch.

Sternal recumbancy.

The SPAW's pool and underwater treadmill.