JANUARY 2016 SPOTLIGHT
Animal Rehab Center
Asheville, North Carolina
AARV Member:
Beth Rhyne, DVM, CCRP, CVPP
The Animal Rehab Center is a full-service, veterinary-guided, physical rehabilitation clinic that offers in-house rehab for the dogs and cats of Western North Carolina. Located at 178 South Charlotte Street, the Animal Rehab Center shares its building with the Canine Social Club of Asheville and is open Monday through Friday, from 7 am to 6 pm.
The Physical Rehabilitation Program at Charlotte Street Animal Hospital began in 2010 with modalities including a land treadmill, therapeutic laser, and land exercise equipment. From there, we continued to grow and add beneficial aids. With the addition of Asheville's first Underwater Treadmill, we soon recognized the need for an expansion and recently moved into a new rehabilitation facility in October of 2015. Our new facility enables us to serve more pets and offer more innovative ways to assist in their physical wellness.
At the Animal Rehab Center, we offer a variety of therapies, including the following:
Underwater Treadmill with Resistance Jets Available
Therapeutic Swimming Pool
Ground Treadmills
Electrical Stimulation (TENS and NMES)
Therapeutic Ultrasound
Therapeutic Laser, Class 3b
Cryotherapy/Heat therapy
Passive Range of Motion Manipulation (PROM)/Stretching/Massage
Various Land Exercises for Proprioception, Strength, and Flexibility
Resistance Weights and Bands
Leg Bells (for sensory awareness and gait formation)
Static Weight Bearing Scales
Access to Acupuncture and Chiropractic Clinicians
These modalities help us to best match the needs of pets coming into our practice. We work with animals recovering from orthopedic surgeries, needing weight loss or increased fitness and mobility, struggling with arthritis, and more. Our doctors and staff care deeply about the well-being of animals and are diligent in providing the best possible care for WNC's pets. Dr. Beth Rhyne, CCRP, CVPP and Dr. Mark Ledyard, CCRP, work closely to assess each case and formulate individual treatment plans. Upon each visit, they assess the pet's current condition before to ensure that each pet's needs are fully met. Our skilled rehab staff — Delilah, Preston, and Jenna — are experienced in performing manual therapeutic exercises, all with positive reinforcement training methods. This allows for a more pleasant treatment experience, as well as trains patients for continued rehab at home.
Dr. Beth Rhyne graduated veterinary school from the University of Illinois in 2004. Originally a North Carolina native, she has been living and working as a veterinarian in Asheville, NC for the last 9 years. As a graduate of the University of Tennessee's Certificate Program in Canine Physical Rehabilitation in 2010, she holds the title of CCRP, and runs the veterinary rehabilitation therapy program at the Animal Rehab Center. She has completed a Stem Cell On-Line Credentialing Course through Vet Stem-Regenerative Veterinary Medicine and is a Stem Cell Credentialed User for various orthopedic issues. She is currently a member of IVAPM (International Veterinarian Academy of Pain Management) and the AARV (American Association of Rehabilitation Veterinarians). She is also a Certified Veterinary Pain Practitioner.
Dr Mark Ledyard graduated from The University of Tennessee College of Veterinary Medicine in 1989. He moved to Asheville, NC in 1996, and opened Charlotte Street Animal Hospital in 1998. He has managed this practice as it has grown from a one Veterinarian practice, to an American Animal Hospital Association-certified hospital that has 6 full time Veterinarians. His primary fields of interest are soft tissue and orthopedic surgery, and advanced dental procedures. Because of his interest in orthopedic conditions, he returned to the University of Tennessee to complete their Certified Canine Rehab Practitioner program, earning his CCRP in 2015.
Contact
Animal Rehab Center
178 S Charlotte Street
Asheville, NC 28801
Phone: 828-232-0440
Email: rehab@csahmail.com
Website: Coming soon
Facebook: facebook.com/animalrehabcenter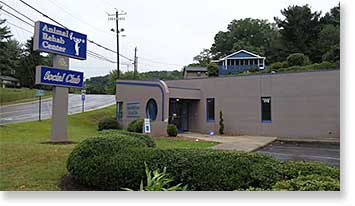 The Animal Rehab Center shares its building with the Canine Social Club of Asheville, located at 178 S Charlotte St. in Asheville, NC.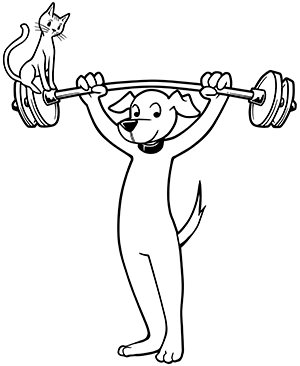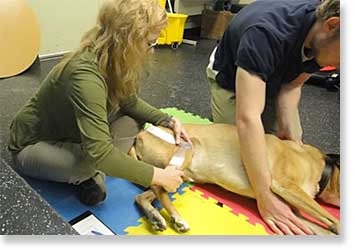 Dr. Beth Rhyne, CCRP, CVPP performs goniometric measurements on a new patient, Esperanza. She does these range of motion measurements, as well as other types of measurements, for each patient to help determine their individual needs.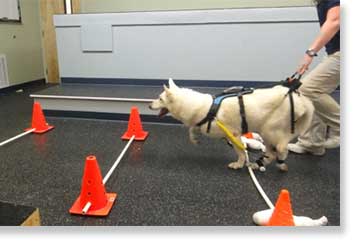 Scout, a German Shepherd with suspected degenerative myelopathy, uses Animotion's BIKO resistance bands to help her with the Cavaletti exercise.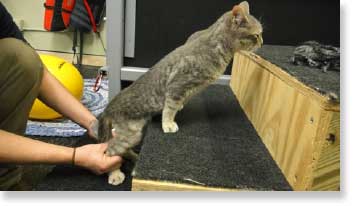 Clark is a kitten with rear paralysis due to a spinal injury when he was only 4 weeks old. He uses physical rehab to prevent contracture and bone deformity in his rear legs. We hope that he is one day able to become mobile using "spinal walking."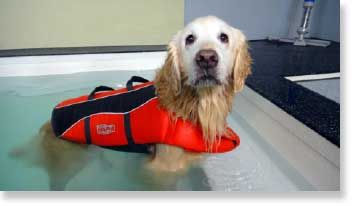 Lahney, the Golden Retriever, loves to swim. She enjoyed a session in our swimming pool using a Gym Pass, offered through the Canine Social Club of Asheville.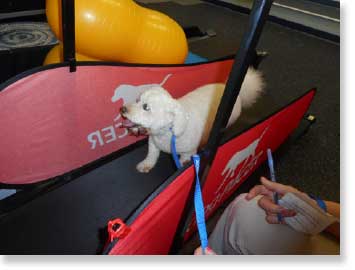 Josh runs on a land treadmill to work on weight loss.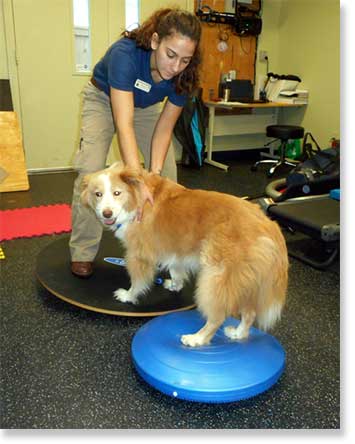 Delilah works with Alaia to help her regain strength, balance, and proprioception after a fibrocartilagenous embolism (FCE).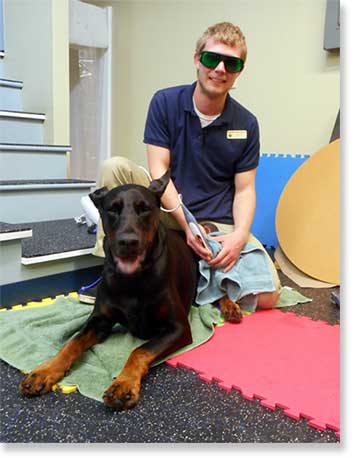 Preston applies the therapeutic laser to Panzer's knee, a Doberman who has had a TPLO surgery on his left rear leg.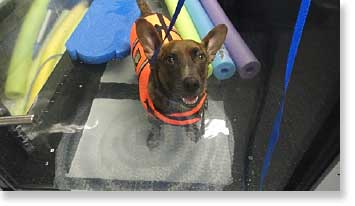 Sidney uses the underwater treadmill for low-impact exercise to help heal and maintain strength after a partial tear of his cranial cruciate ligament.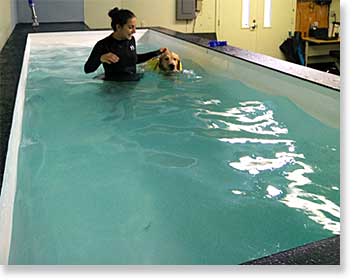 Maddie has lots of fun swimming in the therapeutic swimming pool to help build strength in her rear legs following a tight rope surgery on her left rear. She used the underwater treadmill in the beginning of her therapy and graduated to the pool.