AUGUST 2016 SPOTLIGHT

KVet Animal Care
Greensburg, Pennsylvania

AARV Member:
Daniel Halden, DC, PAK, Certified Animal Chiropractor, CVMRT

At KVet Animal Care in Greensburg, Pa., Dr. Daniel Halden is our Certified Rehabilitation Therapist (CVMRT, Healing Oasis).

We strive to design a treatment plan for each individual that is unique to their needs. We strive to not only assess the immediate needs of each patient, but integrate their care with the long-term goals of the animal and their people.

We have been able to build a burgeoning rehab practice to complement our well established, integrative team of veterinary health professionals.

Each case is closely monitored and integrated into whole pet care. KVet has built a practice that integrates traditional care with TCVM, chiropractic, exotics, laser, and the best in diagnostics and surgery. We have worked cooperatively to provide the best possible care. We couldn't ask for better support from our veterinary team! We have also worked for years integrating our specialized care with the work of other veterinarians, who are providing our patients with the primary care.

We have a dedicated space for our rehab practice that is a very short distance from our primary location.

We have been able to integrate some very talented veterinary technicians into our rehab practice. They have not only taken great interest in the work that we are doing on a daily basis, but have pursued building their knowledge base and practice interests outside of required office activities.

We are always working with the technology that is available to us. We are also constantly looking for creative ways to extend what we can do with the rehab practice.

We use a Companion laser (Class IV) (see photo of Tank at right).

We have an Oasis Underwater Treadmill. This has proven to be, not only a great therapeutic tool, but, also, a terrific outreach tool, as well.

Of course, one of our biggest challenges has been reaching out to our community. We are working to show what we can do with rehab. Part of the challenge, of course, is just getting the word out to the veterinary community that we are here, and that we can do great work together. Generally, the response and support that we've gotten from other practices has been really positive. Likely, that dovetails with the work we've done cooperatively over the last several years with the other services that we provide.

Our next projects will include a weight loss contest, improving use of rehab for pain control, continuing development of rehab protocol to support cardiac care, and providing cross-training opportunities to our athletic patients.

And, of course, have a great time doing it!

Contact
Daniel M. Halden, DC, PAK, Certified Animal Chiropractor, CVMRT
KVet Animal Care
1 Gibralter Way
Greensburg, PA
Phone: 724-216-5174
Website: kvetac.com


Stacey working with Samson.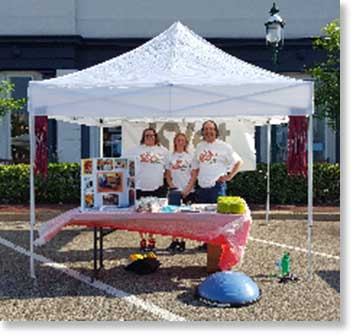 Cat, Stacey, and Dr. Halden at a local Humane Society event.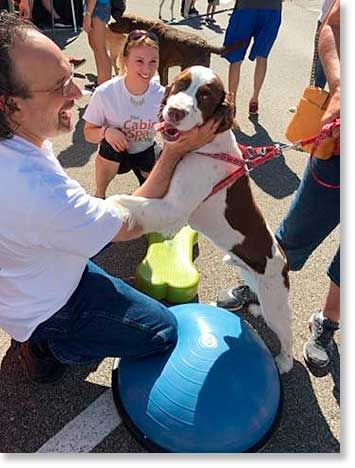 Dr. Halden and Stacey doing community outreach.