SPOTLIGHT PRACTICE: OCTOBER 2016
Animal Surgical Clinic of Seattle
The Animal Surgical Clinic of Seattle is celebrating its 30th year in practice. Started by Dr. Kenneth Sinibaldi, a Washington State University graduate, the clinic is well respected for orthopedics, soft tissue and other specialty surgeries. Having always been privately owned and operated, we continue to serve the region by providing individualized care and attention to our patients. Our staff has a very low patient to caretaker/surgical team ratio, providing the level of care owners desire for their beloved pets. 2016 marks this big birthday with the addition of Dr. Leslie Eide, Vanessa Ormiston, LVT, CCRP, Liz Brown, LVT, CCRA, Sunny Rubin, PT, CCRT, and Mike Zylstra, VTA, who are revving up an established rehabilitation program that started 8 years ago in our clinic. Together they are putting us on the Pacific Northwest's radar as a respected team, tackling post-surgical rehabilitation and conditioning of the canine athlete.
We were the first established surgical specialty clinic in the Seattle area and our rehabilitation department fits in nicely with our desired outcomes for our patients: pain relief, increased activity, faster recoveries and prolonged, healthier lives. It is also great to serve the dog-loving clients, who show great commitment to their pets. We see patients from around the Northwest and continue to grow with stem cell research projects, a deeper focus on sports medicine and conditioning, as well as the continued team oversight on surgical patients. We are also pleased with the addition of a force plate treadmill and will continue to expand as space allows.
Read more about Animal Surgical Clinic of Seattle on our Spotlight Practice page.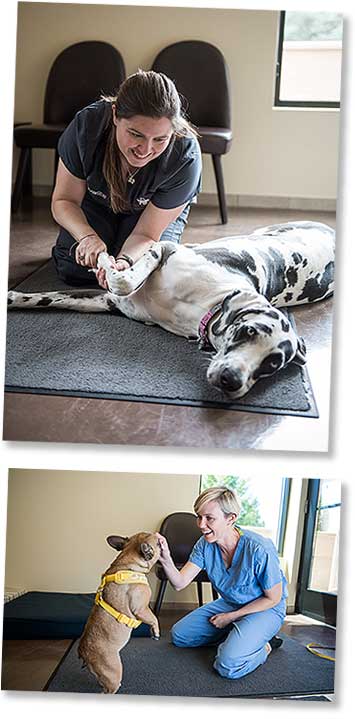 UPDATED MARCH 2016
AARV Summary of Pet Insurance Coverage for Rehabilitation Services
AARV has just released a newly updated version of its summary of pet insurance coverage for rehabilitation services, current as of March 2016.
The Pet Insurance Summary is available as a 2-page printable PDF – please be sure to see both pages for complete information.
Download the AARV Pet Insurance Summary PDF (updated March 2016)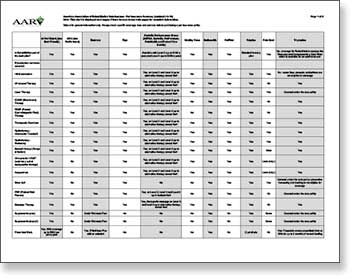 AARV Members: Download Our Updated Free Brochure for Your Clients and Colleagues
AARV's updated brochure "Why Should You Choose a Rehabilitation Veterinarian?" is now available as a free download for members.
The brochure is a high-resolution PDF that may be printed and distributed to clients and colleagues to help explain the benefits of working with a rehabilitation veterinarian. The brochure also may be customized with your practice's contact information on the back panel.
To download the PDF, go to the Resources page in the Members Area (log-in required).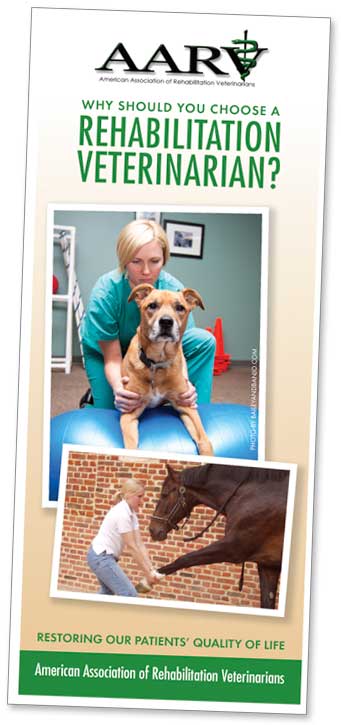 Order AARV Memorial Cards
AARV has updated its printed memorial cards with original new artwork by artist Carol Lavelle of Hawaii. The new artwork, which was created for AARV, features pawprints, hoofprints and footprints from a variety of animals arranged in a heart.
These memorial cards may be sent to clients of your practice as an expression of sympathy from your staff. The card indicates that you have made a donation to AARV as a way of honoring the life of their companion animal.
Visit the Products page to order cards online with a credit card or check.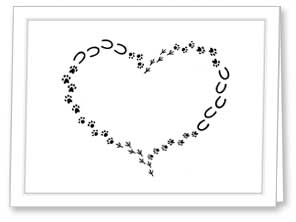 Become an AARV Member
We invite veterinarians, technicians, allied health professionals, and students to learn more about AARV and the benefits of membership. As a registered non-profit organization, AARV promotes education and research in the field of veterinary rehabilitation. Members attend continuing education programs offered by AARV in conjunction with national veterinary meetings.
AARV offers members knowledge, publicity, a way to speak out about issues, great continuing education opportunities and discounts from AARV partner companies.
For more details about these benefits, please visit our Membership Benefits page.
We encourage all veterinary professionals to become members of AARV.
JOIN AARV OR RENEW ONLINE TODAY!
You may now join AARV or renew your membership online! Payments are accepted by credit card or check.

Dues are the same for new and renewing members.
Veterinarian or industry professional: $100
Additional member from a practice at which another veterinarian is already a
current AARV member: $65
Veterinary intern or resident: $65
Veterinary technician: $40
Allied health professional: $40
Student in veterinary, technician or physical therapy program: Free
We have updated our fees for multi-year memberships. We are now offering a larger discount for members joining or renewing for 3 years. Join or renew for 3 years and pay only for 2 years! Fees for 1-year memberships remain the same.
Go to Join AARV or Renew Online to sign up today.
Please contact AARV whenever you change any contact information (especially email) so that we are able to keep you current!