SPOTLIGHT PRACTICE: JULY 2014
The SPAW
The SPAW is a canine rehabilitation facility located within Aldergrove Animal Hospital, a primary healthcare veterinary clinic in Aldergrove, British Columbia, Canada. The SPAW is re-opening August 9, 2014, when renovations are complete and our head technician and manager returns from maternity leave.
The SPAW is dedicated exclusively to physical rehabilitation therapy, fitness and conditioning, and sports medicine. Founded in 2004 by Dr. Jeff Bowra, The SPAW team includes Jeff Bowra, DVM, CCRP; Raceeta MacKenzie, BSc, DVM, CAC; Mark Smith BSc, DVM, MVSc, Dip (ACVS); and Jenn Panko, RVT, CCRP, OCMC, CAPMC. Our clinicians have a comprehensive set of skills including expertise in sports medicine, rehabilitation including use of modalities, orthopedic and neuro surgery, and chiropractic treatment options for our patients. They diagnose conditions and prescribe treatment including pain management and nutrition options and rehabilitation. Our technician Jenn Panko performs all prescribed treatment plans and reports all findings and progress to the clinicians, schedules further consultations with clinicians and reports back to referring veterinarians.

Call for Nominations
AARV members, the AARV needs you to help the association move forward with current activities and to play an integral part in our strategic planning process. This is your opportunity to truly have your voice heard.
Our annual elections will take place in November. Board positions that are up for re-election in 2014 are:
Secretary
Legislative Liaison
Industry Liaison
Board positions are 3-year commitments, beginning in January. In addition to the responsibilities of each office, board members are expected to take part in monthly board conference calls.
Not ready for a board position but interested in serving on a committee? Our Membership and Public Relations Committees are looking for eager volunteers!
For more information about these positions or to nominate someone (including yourself), please contact Jan Van Dyke at janetvandyke@me.com. The deadline for submitting nominations is September 1, 2014.
Presentation Notes Available from the STAAR Symposium
AARV is pleased to provide presentation notes from its lecture track at the 5th Annual Symposium on Therapeutic Advances in Animal Rehabilitation (STAAR), held April 25-27 in Florham Park, New Jersey.

In addition to the pre-symposium labs and workshops that have made this symposium so popular, this year's event included a half-day lecture track presented by AARV and sponsored by DJO Global.
The lecture track, entitled "What's on the Horizon? Cutting-Edge Topics in Veterinary Rehabilitation That Impact Your Practice Today," featured 4 great presenters: Joan Coates, DVM, PhD, DACVIM (Neuro); our own Kristin Kirkby Shaw, DVM, DACVS, PhD, Dipl. American College of Veterinary Sports Medicine and Rehabilitation; Pedro Rivera, DVM, Fellow American College of Functional Neurology; and Gina Bertocci, PhD, PE, Endowed Chair Biomechanics, University of Louisville.
Dr. Shaw has made her presentation notes and reference list available to AARV members.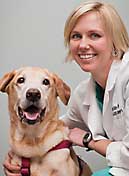 Veterinary Rehabilitation: Where is the Evidence?
Kristin Kirkby Shaw, DVM, PhD, CCRT, Diplomate, American College of Veterinary Surgeons, Diplomate, American College of Veterinary Sports Medicine and Rehabilitation
According to the Evidence Based Veterinary Medicine Association, evidence-based medicine is "the effort to place all medical decisions on the strongest scientific proof (evidence) available." Although physical rehabilitation is becoming an accepted means of decreasing morbidity, speeding and improving recovery, and enhancing quality of life in veterinary patients, it is essential that an evidence-based approach be used in order to critically evaluate and document the efficacy of rehabilitation. Because it is a young discipline, there is a paucity of clinical veterinary studies regarding rehabilitation on which to base decision-making. Rather, rehabilitation therapists must often turn to the human literature and basic science principles when recommending therapy. The purpose of this discussion will be to review the available literature regarding physical rehabilitation and the clinical use of common therapeutic modalities in small animal patients. Discussion of pharmaceutical interventions, acupuncture, othotic/prosthetics and regenerative medicine is beyond the scope of this review.
Evidence for physical rehabilitation in orthopedic patients
Several authors have documented significant improvement following orthopedic surgery in dogs that participate in physical rehabilitation programs compared to dogs that are cage rested (1-4). The incorporation of physical rehabilitation in to weight management programs significantly improves lameness and weight loss in dogs (5,6).
Continue Reading ...
Go to the Resources page in the Members Only Area to read the rest of Dr. Shaw's presentation notes and see her list of references.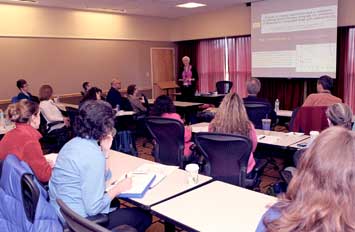 The AARV lecture track at STAAR drew a crowd to hear the four speakers.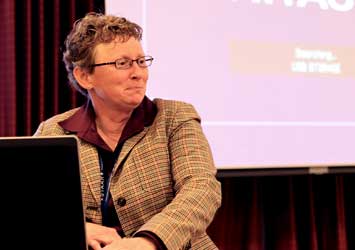 Joan Coates, DVM, PhD, DACVIM (Neuro)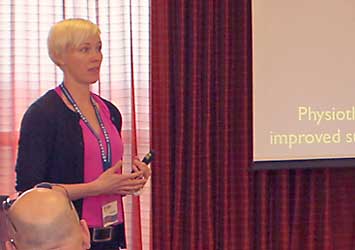 Kristin Kirkby Shaw, DVM, DACVS, PhD, Dipl. American College of Veterinary Sports Medicine and Rehabilitation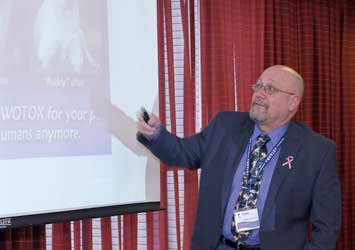 Pedro Rivera, DVM, Fellow American College of Functional Neurology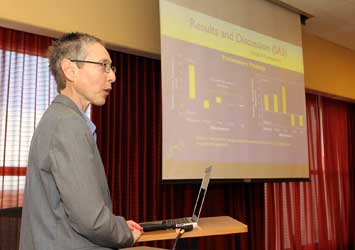 Gina Bertocci, PhD, PE, Endowed Chair Biomechanics, University of Louisville
Congratulations!
Congratulations to Dr. Andrea Henderson, the winner of the 2014 IAMS-John J. Sherman III Award for Excellence in the Field of Veterinary Rehabilitation. presented at AARV's annual conference in January in Orlando, Florida.
Dr. Andrea Henderson received her Doctorate of Veterinary Medicine from the Virginia-Maryland Regional College of Veterinary Medicine in 2005. Her passion for working dogs led her to join the U.S. Army Veterinary Corps. She has been an active duty officer for eight years and currently holds the rank of Major. In July 2011, Dr. Henderson began a residency in canine sports medicine and rehabilitation at the University of Tennessee in Knoxville, of which she is currently in her third year. She is concurrently pursuing a Masters of Science with a focus in Kinesology with plans to graduate in 2014. After graduation, she will return to the Department of Defense Military Working Dog Center in San Antonio to oversee and expand the sports medicine and conditioning programs for the military working dogs. Dr. Henderson has specific interests in therapeutic laser applications in healing and nerve regeneration, perioperative multimodal analgesia, and conservative management of degenerative lumbosacral stenosis in Military Working Dogs.
Thank you to P&G IAMS for your generous sponsorship of this award. We look forward to continuing our relationship for the benefit of our profession, our colleagues, and rehabilitation veterinary medicine.
The John J. Sherman III Award for Excellence in the Field of Veterinary Rehabilitation is named in honor of Dr. John Sherman, a pioneer in veterinary rehabilitation medicine, who passed away in 2010.
At the AARV conference, President Dr. Rosemary LoGiudice also presented a plaque of appreciation to Dr. Janet Van Dyke, 2013 AARV president.
Dr. Andrea Henderson (center) accepts the IAMS-John J. Sherman III Award from Marcie J. Campion, PhD, scientific relations manager at IAMS (left). At right is Dr. Rosemary LoGiudice, president of AARV.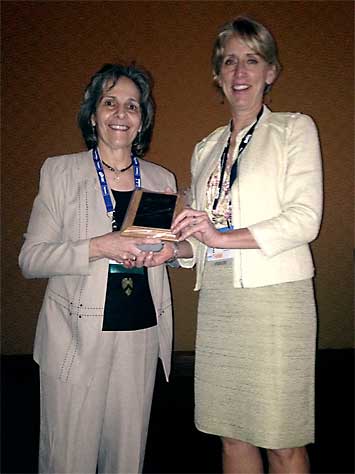 Dr. Janet Van Dyke (right) receives a plaque of appreciation for her term as AARV President in 2013 from Dr. Rosemary LoGiudice, the 2014 AARV President.
Become an AARV Member
We invite veterinarians to learn more about AARV and the benefits of membership. As a registered non-profit organization, AARV promotes education and research in the field of veterinary rehabilitation. Members attend continuing education programs offered by AARV in conjunction with national veterinary meetings.
AARV offers members knowledge, publicity, a way to speak out about issues, great continuing education opportunities and discounts from AARV partner companies.
For more details about these benefits, please visit our Membership Benefits page.
We encourage all veterinarians to become members of AARV.
JOIN AARV OR RENEW ONLINE TODAY!
You may now join AARV or renew your membership online! Payments are accepted by credit card or check.

We have adopted new membership categories, effective November 2013. Dues are the same for new and renewing members.
Veterinarian or industry professional: $100
Additional member from a practice at which another veterinarian is already a
current AARV member: $65
Veterinary intern or resident: $65
Veterinary technician*: $40
Veterinary student graduating this year: $50
Veterinary or technician student graduating next year or later: Free
We are also now offering memberships for multiple years! Join or renew for 2 years and guarantee the same membership rate for both years. Join or renew for 3 years and receive a 5% discount. Join or renew for 5 years and receive a 10% discount.
Go to Join AARV or Renew Online to sign up today.
Please contact AARV whenever you change any contact information (especially email) so that we are able to keep you current!
*As an added bonus, we are offering a free Help'EmUp Dog Harness to the 60th veterinary technician member to join AARV!