SPOTLIGHT PRACTICE: SEPTEMBER 2016
Water4Dogs
Water4Dogs was originally created as a canine water therapy facility focused on fitness, conditioning and recreation, located in downtown Manhattan in New York City. At the end of 2012, the original owner was considering the possibility of closing the facility and reached out to Dr. Francisco DiPolo, who owned a veterinary hospital in the same building, to see if there was any interest in the location. It was at that time that Dr. DiPolo and his associate, Dr. Jonathan Block, started a partnership to transform Water4Dogs from a recreational and conditioning facility to a full-service, stand-alone, accredited canine rehabilitation practice.
After completing his CCRT training certificate, Dr. Block took on the role of medical director while Dr. DiPolo was initially responsible for the business model and day-to-day operations at Water4Dogs. After three years, Water4Dogs now has two CCRT-trained veterinarians and a para-professional team of seven, including LVTs, assistants and a practice manager dedicated to patient care and client services.
"At Water4Dogs we have the unique opportunity to house the only exclusive indoor veterinary rehabilitation pool in the greater New York City area. This has allowed us to expand the type of services we can offer as well as becoming a great source of referrals from other facilities that lack the space," says Dr. DiPolo.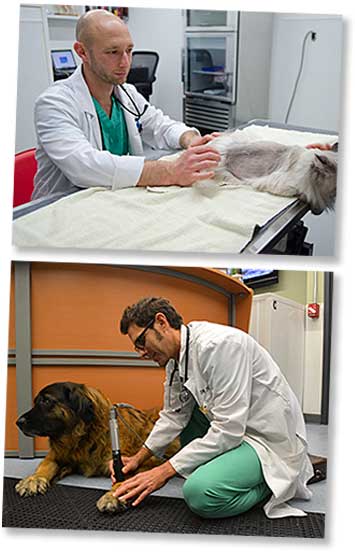 UPDATED MARCH 2016
AARV Summary of Pet Insurance Coverage for Rehabilitation Services
AARV has just released a newly updated version of its summary of pet insurance coverage for rehabilitation services, current as of March 2016.
The Pet Insurance Summary is available as a 2-page printable PDF – please be sure to see both pages for complete information.
Download the AARV Pet Insurance Summary PDF (updated March 2016)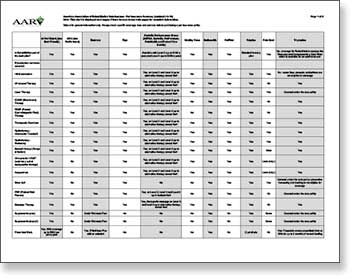 AARV Members: Download Our Updated Free Brochure for Your Clients and Colleagues
AARV's updated brochure "Why Should You Choose a Rehabilitation Veterinarian?" is now available as a free download for members.
The brochure is a high-resolution PDF that may be printed and distributed to clients and colleagues to help explain the benefits of working with a rehabilitation veterinarian. The brochure also may be customized with your practice's contact information on the back panel.
To download the PDF, go to the Resources page in the Members Area (log-in required).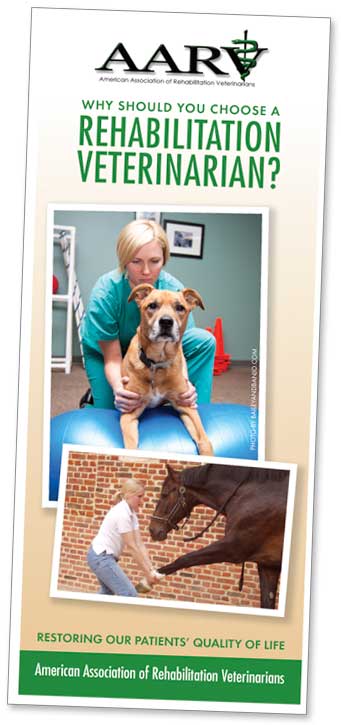 Order AARV Memorial Cards
AARV has updated its printed memorial cards with original new artwork by artist Carol Lavelle of Hawaii. The new artwork, which was created for AARV, features pawprints, hoofprints and footprints from a variety of animals arranged in a heart.
These memorial cards may be sent to clients of your practice as an expression of sympathy from your staff. The card indicates that you have made a donation to AARV as a way of honoring the life of their companion animal.
Visit the Products page to order cards online with a credit card or check.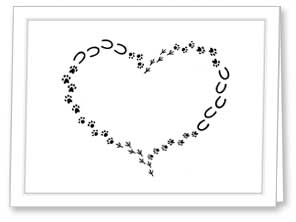 Become an AARV Member
We invite veterinarians, technicians, allied health professionals, and students to learn more about AARV and the benefits of membership. As a registered non-profit organization, AARV promotes education and research in the field of veterinary rehabilitation. Members attend continuing education programs offered by AARV in conjunction with national veterinary meetings.
AARV offers members knowledge, publicity, a way to speak out about issues, great continuing education opportunities and discounts from AARV partner companies.
For more details about these benefits, please visit our Membership Benefits page.
We encourage all veterinary professionals to become members of AARV.
JOIN AARV OR RENEW ONLINE TODAY!
You may now join AARV or renew your membership online! Payments are accepted by credit card or check.

Dues are the same for new and renewing members.
Veterinarian or industry professional: $100
Additional member from a practice at which another veterinarian is already a
current AARV member: $65
Veterinary intern or resident: $65
Veterinary technician: $40
Allied health professional: $40
Student in veterinary, technician or physical therapy program: Free
We have updated our fees for multi-year memberships. We are now offering a larger discount for members joining or renewing for 3 years. Join or renew for 3 years and pay only for 2 years! Fees for 1-year memberships remain the same.
Go to Join AARV or Renew Online to sign up today.
Please contact AARV whenever you change any contact information (especially email) so that we are able to keep you current!