Abstract Submissions
Every year at the Veterinary Meeting & Expo (formerly the NAVC Conference), AARV features the presentation of original scientific studies pertinent to the science and practice of rehabilitation therapy. Material is currently being considered for verbal presentation (15 minutes) at AARV's track at VMX. Reviews will be performed by a minimum of two reviewers with final approval by AARV's Board of Directors. All accepted abstracts will be published in AARV's newsletter. Abstract submission guidelines are detailed below. Please submit your abstracts for review and/or questions to Carolina Medina via email at tcvmvet@yahoo.com.
Important Abstract Submission Deadlines

---

July 1, 2017
Final call for abstracts

---

September 15, 2017
Abstract submission deadline

---

October 15, 2017
Decisions notified to authors and corrections requested

---

November 15, 2017
Corrected abstract submission deadline

---

December 15, 2017
Final decision notified to authors

---

February 2019
Oral delivery with PowerPoint presentation of study at VMX (formerly NAVC)

---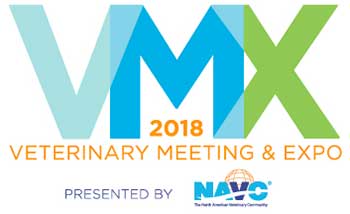 Abstract Submission Guidelines
Abstracts must adhere to the formatting requirements outlined below and should be no less than 250 words and no more than 350 words in length, with the total word count including the title, subtitles and all author names and affiliations. Abstracts not adhering to the guidelines, exceeding the word limit, or which have poor grammar will be rejected. Abstracts describing previously published material will also be rejected. AARV's Board of Directors reserves the right to reject manuscripts without a focus on rehabilitation.
Abstracts need to be organized in the following fashion:
List author(s) names and credentials.

List only AVMA recognized credentials such as DVM, VMD, MS, PhD, MD etc, and AVMA recognized specialties such as DACVSMR, DACVIM, DACVS, DACVA, etc.
CVA, CCRT and other certification titles that are not currently recognized by the AVMA, should not be included as credentials for publication.

List author affiliations including the institution, city, state and country.

Author names and affiliations will not be available to reviewers during the review process.
Abstracts will be reviewed in a blinded fashion such that reviewer will not be made aware of the identity of the authors.
Authors should ensure that the content of the abstract does not disclose the author(s) or institution(s).

Title.
Introduction.
Methods. Must include statistical analyses.
Results.
Conclusions.

Do not restate the results.
Describe the relevance of the findings to rehabilitation therapy.

Declarations must be made for the following:

Ethical Animal Research

Specific details of the ethical review and approval from local or national bodies which relate to the study.
For prospective clinical research, owner informed consent must be stated.

Sources of Funding

Ignore and delete this section if not applicable to the study.
Authors are expected to acknowledge all sources of funding or financial support.
Authors must disclose any financial interests they have with any companies that manufacture products that are the subject of their research or that manufacture competing products.
Company ownership, employment, consultancy arrangements and service as an Officer or Board Member should be disclosed.

Competing Interests

If none, state "No competing interests."

Doses and measurements must be given in metric (SI) units.
Only abbreviations that are in common use within the relevant field or discipline should be used and authors must not invent their own abbreviations unless absolutely necessary.

Prior to using an abbreviation, the word(s) must be completely spelled out once when first used.

Spelling should conform to the Oxford English Dictionary, medical terminology to Dorland's Medical Dictionary and units, symbols and abbreviations should conform to the International System of Units.
The generic name of drugs, equipment or other materials should be given in the text, with product name in brackets.
Brand or trade names should not be used in the title and must be in brackets throughout the text.
If the study was randomized, controlled and blinded, this must be included in the abstract.
Make sure it is clear whether the study was of a naturally occurring or induced disease, if applicable.
The abstract should not contain information not found in the manuscript.
An abstract that contains only introductory information and then states what will be presented will not be accepted.
The abstract should be a summary of what is to be presented at VMX (formerly NAVC).
A concluding sentence should be written, addressing the value of the study.